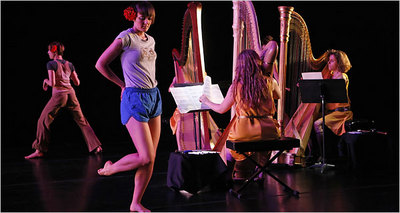 I
should have mentioned Neil Greenberg's show at DTW already, as I've never seen
anything by him I haven't liked, if not been deeply moved by. (I'm going
Friday, tonight–and may have more to say later [UPDATE: here is that more]). Thankfully, Foot in Mouth
contributor Eva Yaa Asantewaa reminded me, with this rave on her blog:
Everybody's thrilled by and writing about Neil
Greenberg's new Really Queer Dance with Harps, and you should really
queerly or otherwise see it–especially for the radiant trio of harpists, led
by composer Zeena Parkins, at the golden heart of the piece. But my own
really queer heart has gone and continues to go out to Quartet with
Three Gay Men, the 2006 work danced by Greenberg, Luke Miller, Antonio
Ramos and Colin Stillwell. It's just–hooray!–11 minutes,
and some of that time is spent dancing to RuPaul's "Supermodel (You Better
Work)." Can't go wrong, in my book, with RuPaul. And it's a fantastic
dance, too, like a prism breaking Greenberg into four avatars who render his
spacious movement with luscious, queerforward simplicity. Oh, did I mention
it's only 11 minutes? Brevity, the soul of wit.

Dance Theater Workshop
's got Dance By Neil Greenberg through
Saturday. Click here to watch a clip
of Quartet with Three Gay Men (it's number 4 in the slideshow). Also
click here for
tickets, preview articles, more rave reviews, and an Artforum piece by Greenberg
himself that's really smart. Greenberg should be a big star; the fact that
we can see him and his incredible, eccentric dancers up close and for $25 (or
less) is amazing for us, whatever it says about the situation of the artist in
America. So, Enjoy!
Photo by Erin Baiano; borrowed from The New York Times.