So, I've now been to China, Beijing specifically. I was privileged to have been invited to speak for a celebration of the tenth anniversary of the arts management program at the China Conservatory of Music. A single trip does not make one an expert on China! It does not even make one semi-literate about it. That said, it was a wonderful experience that broadened my horizons substantially. It also reinforced the lesson that surprised me last year in Singapore. Issues related to the arts and community engagement are significant around the world. In Singapore it had to do with the hegemony of Western culture dominating arts funding. In China, it is related to  government concerns that arts and culture funding benefit as many citizens as possible.
Just before I left for Beijing, NPR had a story on two new major museums opening in Shanghai. (China Builds Museums, But Filling Them Is Another Story) These were just two of a number of cultural construction projects that China has undertaken. To quote the NPR piece: "In recent years, about 100 museums have opened annually here, peaking at nearly 400 in 2011, according to the Chinese Society of Museums." The thrust of the story is that construction may have outpaced demand. The two museums in Shanghai apparently sit pretty empty. Since that is almost unheard of in a public building in one of China's major population centers, those who have discovered them revel in the solitude. But it's certainly not what Chinese officials want. Of course, there are a myriad of reasons for Chinese art museums to struggle. The legacy of the Cultural Revolution severed ties to the arts; a good deal of the educational system (and parental focus) is on college admissions–the results are heavy emphasis on math and science; and, especially with regard to Western modern and contemporary art, there is little context upon which the average Chinese citizen can build for understanding.
Jun-ting Tian, a Vice Director at the Ministry of Culture, spoke at the China Conservatory and gave an overview of their new directions. Two of his comments in particular resonated with me. One was that arts management programs needed to emphasize not just administrative problem solving but also big picture issues–like the future of the arts in the PRC. He also said that the arts themselves must be working to find (or at least support) answers to big societal questions. This is a clear acknowledgement that the arts can (and in terms of Chinese public policy, must) be a significant force in society.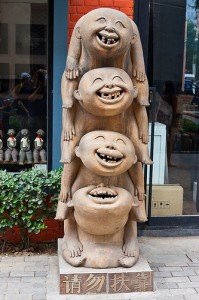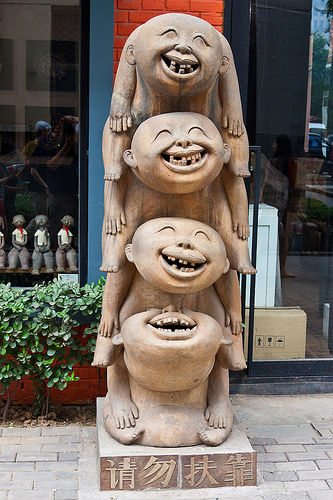 Another arts-related surprise was discovering a massive arts district in Beijing. The 798 Arts District occupies a huge former factory complex that was abandoned in the early 1990's. The empty spaces began to be populated by artists and, over time, as we've all seen happen in the U.S., the cachet of working artists attracted galleries, retail shops, and restaurants, raising rents and making it difficult for artists to continue to afford to stay there. Gentrification in the People's Republic!
Let me acknowledge that issues of artistic freedom and censorship did not arise with my hosts or as part of the conference. (I did discover that Facebook, Twitter, Google Drive, and the online New York Times were not available there.) Nevertheless, the trip was an excellent opportunity for me to discover, once again, that issues in the arts vary far less from country to country and culture to culture than we might imagine.
Engage!
Doug
Photo (from 798 Arts District):
Some rights reserved by ahenobarbus