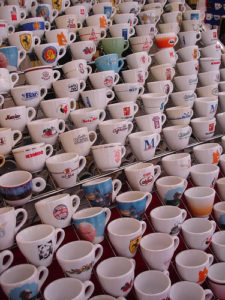 Recently, in a conversation about beginning relationships with new communities, one of our new ArtsEngaged trainers, Anne Cushing-Reid, commented that, especially where there is negative history to be overcome, "There's a lot of coffee in our future." I flashed back to the thousands of cups of coffee I've consumed in the process of getting to know people. "Coffee" is, of course, a place holder for whatever means of social interaction is employed to promote conversation, support mutual learning, and build trust. This is particularly necessary when a community has been marginalized by an arts organization or feels dismissed by the social circles the organization represents to it. Relationship building here means finding ways to crawl up to level ground.
However, all relationship building requires extensive listening to learn. (I sometimes amend that to "listening to serve.") There is simply no substitute for the time it takes for you to get to know a community and for them to get to know you. Whether it's over coffee, tea, adult beverages, doughnuts, lunch, bridge, mahjongg, pool, billiards, or arm wrestling, it takes effort and presence.
And the nature of those conversations demands humility on our part and a willingness to hear people out. Unrelated to my community engagement work, I have been reading of late about medical professionals preparing themselves to help people deal with end-of-life issues. I have been struck by how frequently the mandate to listen comes up–listening to patients far more than telling. One book, Being Mortal by Atul Gawande contains the following passage: "You sit down. You make time. . . . You're trying to learn what's most important to them . . . . The process requires as much listening as talking. If you are talking more than half of the time . . . you're talking too much." I like the "metric" about talking less than half the time. Later he gives an outline for these intense discussions: Ask-Tell-Ask.
While there is no direct relationship between community engagement as discussed here and the training of gerontologists and hospice workers, the principle of needing to spend time listening and learning is central to both.
Engage!
Doug
Photo: 
 Some rights reserved by Photomath?