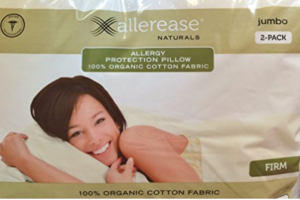 I had planned this post before Trevor O'Donnell wrote this: Is Marketing about the Consumer or the Product? Really I had.
We recently bought new pillows. Not expensive ones, mind you. Just basic pillows. The photo accompanying this post is of the bag the pillows came in. Who out there can now write the next few paragraphs for me?
What consumes well over the half of available space? You are correct. A picture of someone using (and enjoying–in all likelihood a greatly exaggerated enjoyment to be sure) the pillow. OK, I'll also acknowledge the obvious. The pillow user is an attractive young woman, but this is pretty plain vanilla consumer marketing in the U.S.A. We'd hardly expect much else.
So, Marketing 101. Pictures = good. (Ditto few words.) Pictures of people happy about the product = better. And the second equation is baseline stuff, not a brilliant new horizon in advertising.
What do we not see on the package? Copy extolling the inherent virtues of the pillows. The following are words describing attributes the purchaser (me) might (and does) find personally attractive: "Allergy Protection Pillow," "Firm," "2-Pack," and (arguably) "Jumbo." We'll leave the logo and product names aside. The only other copy is "100% Organic Cotton Fabric." That could be interpreted as self-aggrandizement since it's about the wonderfulness of the materials. At the same time, "organic" is popularly understood as a positive thing and "100% . . . cotton" rides the "natural" train in a time when natural is a widely valued trait.
Real arts marketers have discussed the lessons to be learned here far better than I ever could. I'll just say, when you compare arts promotional materials with this pillow package, consider the impact of the faces of dead composers/playwrights/painters, imperious conductors, and otherworldly looking performers on potential "consumers" of the product as opposed to this pillow user on a rest deprived purchaser of sleep aids.
Engaging Matters will be taking the week off next week recovering from Memorial Day
Engage!
Doug