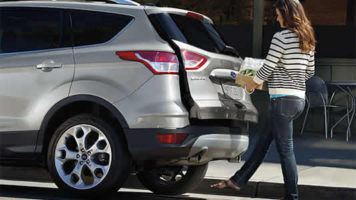 We have recently upgraded to a new used car from a very (very) old used car. Since this one is ten years younger than our last model, there are significant (and daunting) new bells and whistles. (Love the rear camera!) But one feature has kind of blown me away. The rear hatch will open (and then close) simply by kicking your foot under the bumper. This means that with loaded arms and/or kids in tow, you don't need to fumble for keys or an opener fob.
Now, you might well ask, why am I writing about this in Engaging Matters? Anyone get there yet? Here's the deal. I'm fairly certain none of the design or engineering team came up with this idea on their own–at least not from their design/engineer minds. Their focus is on, well, design and engineering. It almost had to come from someone telling the car company how nice it would be to have a way to open the back without having to put down what they were carrying. Someone had to talk with consumers. And now you see where I'm going. And even if the idea did spring from the design or engineering teams, it did so not out of their design or engineering training but out of the lived experience they share with those who are not designers or engineers.
While a car company is vitally interested in giving consumers what they want, this example in no way detracts from the basic "carness" of the vehicle. It's simply a relatively small alteration that offers something people value. If people had asked the car company to add  rocket thrusters, helicopter propeller blades, or bright pink paisley door panels, it's likely those requests would not be granted.
For mission driven organizations, there need be no inherent conflict in providing things that people value so long as doing so does not conflict with the mission. (But we need to remember that our missions should not be about serving art but about serving the connection between art and people.) The only way to find out what people value is to talk with them. (Note I did not say talk to them.) Of course if people ask the symphony to present a program totally consisting of heavy metal rock and roll (is that still a thing?) there's no harm in saying no. But there is a world of relatively simple things (or more difficult but incredibly productive things) we can do in the arts that could be meaningful to new participants in our work. Many of those changes might be totally surprising to us but we'll never know if we are not talking with people who are not now part of our world.
The last point here is that one of those car designers or engineers might have come up with this idea on their own. However, they only would do so if they shared the experience of living with a car with those who might buy it. How many of us share life experiences with those we would hope to reach? If the answer is few or none, then it is doubly imperative that we have the conversations that will reveal what might be of value to others.
Engage!
Doug