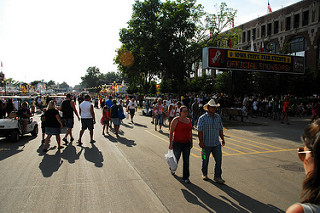 For the many of us reeling from the recent election, middle class communities are much on our minds. I've written about it twice already: Blindsided and Should We Bother? I thought it might be good to dig a little deeper into what this might mean for community engagement.
The beauty of my operating definition of community–a group of people with something in common–is its flexibility. I know it is woefully inadequate in sociological (or most other) realms but it works perfectly for community engagement planning. We can use it to identify groups with which we want to develop relationships and proceed to the work of doing so.
Ronia Holmes recently pointed out here (Your organization 'sucks' at community and let me tell you why) that our field–both funders and arts organizations–has inappropriately identified community engagement as work with marginalized communities. And as she also pointed out, the attempts at cultural colonization that often result are far too frequently condescending, wrong-headed, and breathtakingly ineffective. I have long held that middle class communities (and many other non-marginalized communities) are communities that should be considered for engagement.
So how might we proceed? The principles are the same regardless of the community we are trying to engage. Most importantly we need to learn about the community before daring to create programming. There are questions to ask that can provide helpful insight. At the risk of repeating myself, here are two sets of questions I've presented here before.
When you think of our [city, state, region] what are the most important things that come to mind about:
Geography
Climate
Regional History and Historic Events
Cultural Expression and Heritage
Creative Legacy (e.g., artists and inventors)
Food and Drink
Character of the people
Athletic Teams
On a more personal or individual level, the following can be good conversation starters. They also demonstrate that you are truly attempting to get to know them.
What about your community makes you proud?
What is important to you about your community?
What about your community do you wish were different?
What do you wish others knew about your community?
What are particular creative or cultural resources (people, organizations, or activities) that might help others better understand it? Or Who are the cultural workers/arts makers in your community?
The answers to these questions can help us understand communities with which we might be unfamiliar and inform our work with them.
What might we learn in asking these questions of rural communities or middle class suburban and urban ones? Some of the key concerns/points of pride might include:
Home and family
Their children's education
Their geographical community and its history
All of these have natural connections to things the arts can highlight and support: participatory family activities, arts and education (!), and community celebrations to name a few. There will be, of course, many items specific to a locale as well. The first step is developing a willingness to be a resource for these communities. Then we need to enter into dialogue to develop trust, just like we must do with more obviously marginalized communities. It's a nearly unaddressed issue within the nonprofit arts industry that we are widely viewed as elitist and irrelevant to "the person on the street." Overcoming that impression will take commitment and a considerable amount of conversation up front. Mutually beneficial programming can follow and will lead to greater support.
Engage!
Doug
Photo:
Some rights reserved by ieph