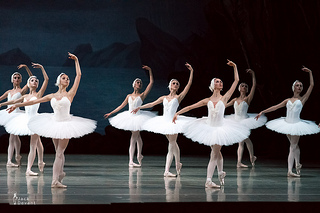 So much interesting stuff has been written recently about engagement and related topics, I barely know where to begin. The Irvine Foundation has published a series of mini-essays responding to questions about engagement. [Part 1, Part 2, Part 3] Diane Ragsdale posted an extended response to Irvine's question "Is there an issue in the arts field that is more urgent than engagement?" And Doug McLennan presented the results of an ArtsJournal survey about issues in the field: We Asked: What's the Biggest Challenge Facing the Arts?
I can't consider all in a single post, so I'll focus here on Ms. Ragsdale's essay. Her central point, as I read it, is that while engagement may be significant, a far more important issue is the corporatization of our arts organizations and the result that, to grossly over-simplify Ms. Ragsdale's point, they have lost their souls.
While lack of meaningful engagement in the arts is indeed troubling, I would offer that a larger problem is that the nonprofit, professional arts have become, by-and-large, as commodified, homogeneous, transactional, and subject to market forces as every other aspect of American society.
I have no argument with her. None! But what I want to examine is not her main point but the introductory clause in that sentence in which she raises "lack of meaningful engagement in the arts . . . ." That use of the word engagement highlights the difficulty we have in talking about these things and the reason I've spent so much time developing (and revising/refining) definitions. As with the Irvine Foundation's use of the concept "arts engagement," this framing focuses on individuals' engagement with the arts. If measurable, that might be an interesting and perhaps even valuable "metric," but I cannot imagine anyone viewing engagement in that sense as an end to be sought. At best it would be an indication (though not a proof) of individuals having substantive arts experiences.
It may surprise readers of this blog to know that I agree with Ms. Ragsdale's "Yes" response to Irvine's question: "Is there an issue in the arts field that is more urgent than engagement?" Both for her points and for mine that engagement is not an issue. It's a means to enhance arts' capacity to improve the lives of individuals and communities. My focus has always been on arts organizations engaging with their communities and on improving the quality of that engagement so that the results are mutually beneficial. The tagline of my blog shows that concern: "on vibrant arts and communities" (with communities being collections of individuals). Even here, engagement is a means to the end of better arts and better lives, not an end in itself.
Engagement is a good word that can, justifiably, mean many different things. (Community engagement can, as I've pointed out, mean individuals in the community engaging with an arts organization. But how does that significantly advance our cause?) For the purpose of expanding reach and viability in the arts, the most significant role of engagement is community engagement. But in examining the use of the term, consider whether the engagement is something the arts organizations is doing or something individual community members are expected to do. And, if the former, for purposes of effectiveness, how authentic are the efforts, are they truly mutually beneficial, and do they result in change in the organization?
Next time, I'll comment on ArtsJournal's survey of challenges for the field.
Engage!
Doug
Photo:
Some rights reserved by Jack Devant ballet photography