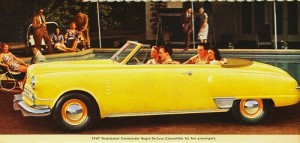 Frequent readers of this blog know that I am in the midst of a series of posts dealing with core mission in the arts. (The Buggy Whip Lesson: Recognizing a Mission Crisis, The Metamission of Arts Institutions, The Old Ball Game, Examining the Mission Model) I've discussed many aspects of the need for arts organizations to re-imagine their role in the world. This one does so as well, with an eye on how changing times can make a venerable "mission model" become out of step with the times.
Studebaker, for those of you younger than "a certain age," was a successful and reasonably innovative company making automobiles in the post-World War II era. They began as a wagon and buggy manufacturer and successfully made the transition to horseless carriages in the early Twentieth Century. They were not, however, able to make the transition to cars for the 1960's and went out of business in that decade.
Thinking about this once-influential old company made me consider whether some missions may simply not be good fits for changed times. Perhaps I am saying the same thing that I've said in other posts, but it may be that the changing demographics, economics, and social expectations cited in those earlier posts simply have made the mid-Twentieth Century approach to arts presentation unwieldy for today in a way that Studebaker was not able to navigate in the 1960's. That arts model was authority-based, rooted in a society that appeared to be fairly homogeneous (although the appearance was a forced one), and dependent upon relatively low labor costs and significant support from a wealthy class committed to supporting a cultural expression they saw as their own.
Institutions need to adapt to significantly changed circumstances . . . if they can. It may well be time to "trade in the Studebaker" of our didactic large organizations and remake ourselves in ways that better fit with the realities of the Twenty-first Century. Whether or not that's possible is the big unknown for the arts industry's future.
Engage!
Doug
Photo: Some rights reserved by aldenjewell