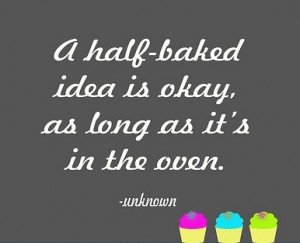 One of the best things about blogging (especially in the summer when so many of my colleagues in academia are paying less attention) is the opportunity to experiment with ideas that are, shall we say, not fully baked.
Careful (and long-time) readers of this blog may recall that in my post Art for Art's Sake? There's No Such Thing, I expressed some discomfort with the notions of intrinsic and instrumental benefits of the arts. That construct from the Rand Corporation's Gifts of the Muse has always given me pause because, in my way of thinking, any real benefit is "instrumental" in some way.
Recently, in considering issues of mission in the arts, I've returned to this question. Here's my latest thinking:
Those for whom art has deep meaning have difficulty understanding/relating to people for whom that is not the case. As a result, we sometimes assume that simply putting forth our work or medium/genre is serving the community. So, in spite of our intent, the effect can be what I call artcentric, disconnected from humanity and off-putting to those who are not true believers. In contrast, the key for the future of the arts lies in finding ways to serve people who do not already feel the arts are important to them–ways that they recognize.

The core benefits of the arts are their impact on people–individually and collectively. For individuals the arts provide (or enhance) internal congruence–self-understanding, self-acceptance, identity, and pleasure to name a few. Between individuals, the arts aid relational alignment–facilitating relationship-building and understanding. In the community/society context, the arts foster social capital–both bonding among people of similar interests and backgrounds and bridging across lines of difference.

I would hold that all other forms of benefit–economic development principal among them–are ancillary benefits. These are valuable to communities but are not central to our mission of serving people through the arts.

This core/ancillary classification of benefits can satisfy the essence of the "arts for arts sake" position without forcing us to focus on the arts rather than on their benefits for people. We can then envision the deep mission of arts organizations as doing things that impact people's lives in ways they cannot help but see.
This is early enough in my thinking that I don't even know if I believe all of the above, but the core/ancillary distinction solves my discomfort with intrinsic/instrumental. Whether that makes it meaningful is another issue altogether.
Engage!
Doug
Image:
Some rights reserved by Krissy.Venosdale