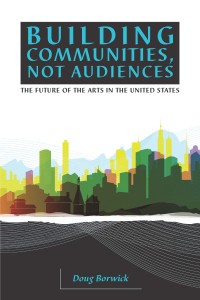 Beginning this month (September) I am undertaking a DIY (do-it-yourself) tour for my book Building Communities, Not Audiences. Having taken the print-on-demand route for publishing it, there is not a deep pockets (or even shallow pockets) publisher funding a tour. So, when I am going to be someplace anyway, I'm finagling ways to hawk it. This feels like a strange undertaking for me. Self-promotion (and I cannot construct a way to think about this that makes it be much other than that, even though the mission of this work is vitally important to me) is not a natural fit.
That said, the schedule below is a work in progress. In many of these instances, there is room for more stops in the area. If you'd like me to come to a street corner near you, let me know. Also, going forward, if you'd like to bring this show to a city or state near you that's not already on the list, let me know. There are a variety of ways I'm using to package opportunities to make things workable. I do have my own contacts across the country, so sometimes it only takes a single crystal to make something bigger form.  The "tour" as currently envisioned will be an ad hoc, on-going, "progressive dinner" type of "event."
So far, here is the schedule (also available for any who might care at http://www.artsengaged.com/content/artsengaged-road).
Michigan
September 14
Midwest Arts Conference Workshop: "Building Communities, Not Audiences"
Johnson Center for Philanthropy Workshop: "Engaging for Success"
North Carolina
September 27
Arts Council of WInston-Salem/Forsyth County: "Building Communities, Not Audiences" Panel and Book Signing
Virginia
October 1-2
Sweet Briar College: Residency
Washington, DC
October 4
National Assembly of State Arts Agencies Community Development Peer Group: "Beyond Placemaking"
Wisconsin
October 9
Robert E. Gard Foundation/Wisconsin Academy of Sciences, Arts, and Letters (Madison): Book signing
Indiana
October 10
Tippecanoe Arts Federation (Lafayette), Bravo for the Arts: "Arts Build Communities"
North Carolina
November 11
NAMP Conference Roundtable (Charlotte): "Systemic Approaches to Community Engagement"
November 12
NAMP Conference book signing
 I would love to see you . . . sometime soon.
Engage!
Doug