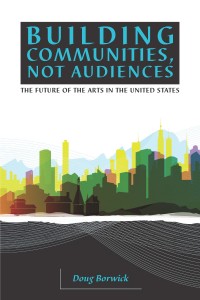 At long last, Building Communities, Not Audiences: The Future of the Arts in the United States, is available for purchase. The paperback is available by clicking this link for CreateSpace. (It's also available at Amazon, but my accountant will be happier if you use the CreateSpace link.) The ebook version is available at Kindle. The Nook and iTunes accounts are getting set up and will carry the ebook soon. (Update: iTunes store version should be ready early next week.) In addition, a fair number of online excerpts are available at the ArtsEngaged website. Simply click on the hyperlinked items in the Table of Contents: Online Excerpts.
This culminates a process that began for me almost two decades ago. I hope those of you who take the time to check it out find it a worthwhile examination of the current situation of the established arts world with respect to community engagement as well as showing some compelling examples of the benefits of substantive engagement.
Regular readers of this blog know that my fundamental conviction, which is also the fundamental premise of the book, is that the arts infrastructure in the U.S. needs to substantially re-imagine its relationship with the people we are supposed to be serving.
Are the arts for everyone?
If so, it is our responsibility to act as if that were the case. Our view of "the public" must be transformed from potential patrons/supporters/ticket buyers to potential partners (equal partners) in building better communities and better lives. The practical benefits that the arts require–funding, marketing, public policy support–will flow from the new relationships that grow out of the transformed view.

That is the message of the book, its the message of this blog, and its the focus of my work with ArtsEngaged. That work is three-fold. First, the message that change of thought on the order of a paradigm shift is necessary both in the arts world and in the broader world must be spread. Neither the arts nor their communities, in general, think of the arts as robust contributors to community well-being apart, perhaps, from "quality of life" enhancements. Second, training is needed for artists and communities on how to work together. Neither knows that they don't know what they don't know about partnering or developing mutual beneficial relationships. And third, assistance in navigating from the current reality to one more community focused is going to be essential. Boards, patrons, and the established order will need help in understanding and adjusting to this new reality.
This is the "modest proposal" of the work on which I embark. Let me know if you want help or if you want to help. Wish me (and us) luck!
————–
Thanks to those of you who showed up for the book signing at AftA in San Antonio yesterday. It was a pleasure to meet you all!
Engage!
Doug