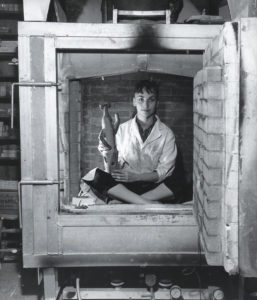 [contextly_auto_sidebar]
UNDERSUNG but widely respected, the sculptor Dora De Larios has been working in around Los Angeles for six decades now. I was pleased to be asked to write about her for Los Angeles magazine, and was able to tour her daughter's house, where a wide range of her sculptures and ceramic work sits.
What interested me about De Larios' work right away was how firmly it sat in a tradition — pre-Columbian and Mexican-American — while also demonstrating and individuality that was simultaneously personal, distinctly Modern, and contemporary. HERE is my piece on her.
My contact with De Larios — who was ailing at the time of my reporting — was not extensive, though she answered some questions quite lucidly for me. I was quite floored, even knowing the state of her health, to hear she passed away a few days ago. (This story was not easy to write, but am very glad we did.)
Here is part of a note from the museum director, Allison Agsten, who provoked and curated the show:
I met Dora De Larios last year after getting in touch to see if she might be a fit for the commission of a new public artwork that would welcome visitors to the museum. Almost immediately, I knew she was perfect for the project, and more importantly, that she needed a major exhibition. As a Mexican-American, a woman, and a ceramist, she did not receive the recognition she deserved in her long career that began in the late 1950s.

A show coalesced quickly. In the last few weeks, Dora enjoyed reading the beautiful stories that came out about her work and the upcoming exhibition, Dora De Larios: Other Worlds, in Los Angeles magazine, LALA magazine, the LA Times, and many others. It seemed like we could hardly keep up with the press and it brought us all so much joy to see her enveloped in the recognition she had always deserved. Even better would be seeing Dora bask in the glow of her exhibition. But we did not make it in time. Dora passed away after a protracted battle with cancer on January 28. I was, and am, devastated.
A career retrospective goes up on February 25 at the Main Museum in Downtown LA. I'll be there. RIP, Dora!