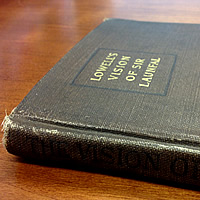 I'm a bit of a sucker for old books, particularly small old books, which is why I make every effort to avoid establishments that offer small old books for sale. But I just HAD to make the significant capital investment ($5, US) to purchase Lowell's Vision of Sir Launfal and Other Poems by James Russell Lowell, edited by Herbert Bates, teacher of English, Manual Training High School, Brooklyn, NY, 1919.
What sealed the deal for me was the prefatory note from Mr. Bates, explaining how the central poem of the volume should be taught in the classroom. Beyond the meaning and mechanics that should form the foundation of the lesson, Mr. Bates suggests a higher goal that must be engaged with passion and purpose.
But most important and hardest, one must avoid a shrinking tendency to keep the poem's highest meaning and inspiration for the tabernacle of one's own heart, leaving the class to seek this for themselves, and putting before them only the dry husks of verbal elucidation. It is the height of egotism to regard the higher enjoyment of poetry as the perquisite of the aesthetically elect.

In each soul there lurks some seed of poetry, a seed that quickens responsive to the warm influence of the true poet. It is for us to bring these seeds to this sunlight, – to develop, with unabashed idealism, a human tendency that may defeat the material greed that endangers modern life, – to arouse the divine discontent that looks beyond the partial, which is, to the perfect, which may be.
Word. And thank you, Mr. Bates.