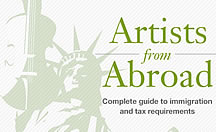 The arts experience is a global experience, where expressions and perspectives from across cultures and around the world can find each other and celebrate what's different and what's the same. And yet, since America locked its borders in so many ways following 9/11, the global arts experience in the United States has been dramatically less global. Domestic presenters and producing organizations had to understand and navigate a labyrinth of new regulations and new government agencies. International artists who hoped to share their voice and connect their craft with American audiences were so often lost in the wilderness of bureaucracy.
The challenge was particularly intense for projects or presentations that required planning and preparation. The government processes and timelines were often completely out of sync with the needs of the arts.
Thankfully, over the past decade, a wide variety of service organizations, arts organizations, and passionate advocates have been working hard to understand the new normal, but also to influence and inform government policies to be more supportive (or at least less disruptive) of international artist exchange.
And just this week, the League of American Orchestras and the Association of Performing Arts Presenters launched a newly updated edition of their resources on the Artists from Abroad website. While the site necessarily focuses on inbound international artists (outbound artists need to figure the rules at their destination country), it's a welcome step-by-step that will help continue to gradual re-connection of American audiences to international cultural experiences.
The process may still be a labyrinth. But at least now we have a map.