Artist/activist/advocate Theaster Gates offers some clear and compelling (although counter to current practice) insights about how art meets place in this interview with Carol Coletta of the Knight Foundation. While many 'placemaking' initiatives position art as beacon and bait (bold, obvious, spotlighted, central), Gates prefers local change where the "art" is small, malleable, and quietly evolving.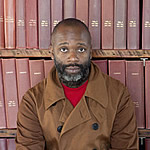 Gates is a globally known visual and performing artist in big-ticket venues, but his work in Chicago's South Side has favored tactical, grounded efforts to transform the neighborhood. His foundation hired a full-time groundskeeper rather than a full-time administrator or grant manager to catalyze pride and positive action. The cultural construction has been frugal and adaptable, rather than iconic and permanent.
As an artist, he sees his part in this transformation not in making art himself, but in the "creative solutions to everyday problems" that come from an artistic perspective. And, as he says in the interview, he's less concerned about whether his work in this neighborhood is art, and more about whether it is artful in forging real results for real people.
Worth a listen. And it's great to have Carol (who used to host the fantastic "Smart City" radio/podcast) back on the air!