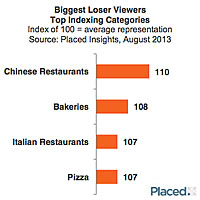 If you're not already creeped out by the depth and detail of personal, behavioral, and transactional information about you available to the business world (and honestly, why aren't you?), then perhaps this will nudge you in that direction. The evolving marketing information systems are now adding location behavior to the mix, tracking not only what you like, what you do, and what you buy, but also where you wander in the world. #
Case in point is Placed (news article here), a startup that matches mobile phone location data against other consumer data to add "where" to the information mix. The combo reveals that people who watch the weight-loss show "The Biggest Loser" are more likely to visit restaurants and bakeries, that "Survivor" watchers are more likely to visit sporting goods stores, and that those who watch TV on mobile devices are more likely to visit a T-Mobile or Sprint store than AT&T or Verizon. #
To me, the continuing evolution of consumer information tracking and analytics raises two independent questions: #
How willing am I to trade convenience and consumer perqs for my privacy (through Facebook, consumer loyalty cards, preference-sharing systems like Amazon and Pandora, and the like)?
And how would I behave as a business leader in the nonprofit arts, knowing this information is out there, and that I can use it to advance my work?
Knowing your customer is powerful stuff. But exploiting their personal information, and their physical location data, may not be worth the return, particularly for a public trust, mission-driven enterprise.
#