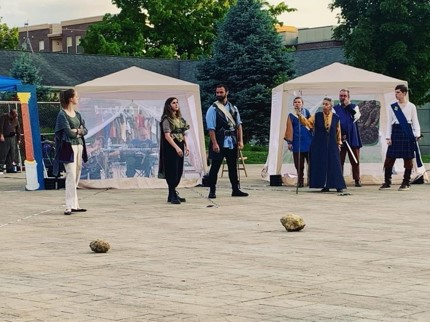 In the New York Times, Isaac Butler sounds the alarm for the fate of live theatre in the US:
The American theater is on the verge of collapse. …
Regional and nonprofit theaters were in trouble well before 2020 and the force majeure of the pandemic. Most regional and nonprofit theaters were built on a subscription model, in which loyal patrons paid for a full season of tickets upfront. Foundation grants, donations and single ticket sales made up the balance of the budgets.

For much of the 20th century, this model worked. It locked in money and audiences, mitigated the risk of new or experimental shows and cultivated a dedicated base of enthusiasts. But this model has been withering for the entire 21st century. Subscriber numbers are falling, and nothing has arisen to take the place of that revenue or that audience. Not surprisingly, ticket prices have gotten higher, making new audiences more challenging to find.

This smoldering crisis was exacerbated by the pandemic, a ruinous event that has closed theaters, broken the theatergoing habit for audiences and led to a calamitous increase in costs at a moment when they can least be absorbed. A collapse in the nonprofit sector doesn't just mean fewer theaters and fewer shows across the country; it also means less ambitious work, fewer risks taken and smaller casts. The reverberations will be felt up and down the theatrical chain, and a new generation of talent will be neglected. As with a bank collapse, in which a few foundering institutions can bring down a whole system, the entire ecosystem of American theater is imperiled. And American theater is too important to fail.
His solution? A federal government bailout, similar to how it has in past decades bailed out banks and the automobile industry (neither of which was without controversy and dissent).
He cites the Federal Theatre Project from the Great Depression as a model, and I wish arts commentators would stop citing a program from nine decades ago that was meant to solve a problem of widespread and devastating economic depression and unemployment with the main goal of simply getting people to some sort, any sort, of job. The current US unemployment rate is 3.6%.
He also thinks the National Endowment for the Arts could use a boost in funding, and, sure, but that is hardly going to turn around, or even make much of a dent, in the finances of live theatre.
But here is what he does not mention: audiences. Let's go to the pre-pandemic 2017 NEA Survey of Public Participation in the Arts. In that year, 9% of US adults attended a nonmusical live stage play. The numbers break down to rates of 10% for urban residents (who would have better access to live theatre) and 6% for rural.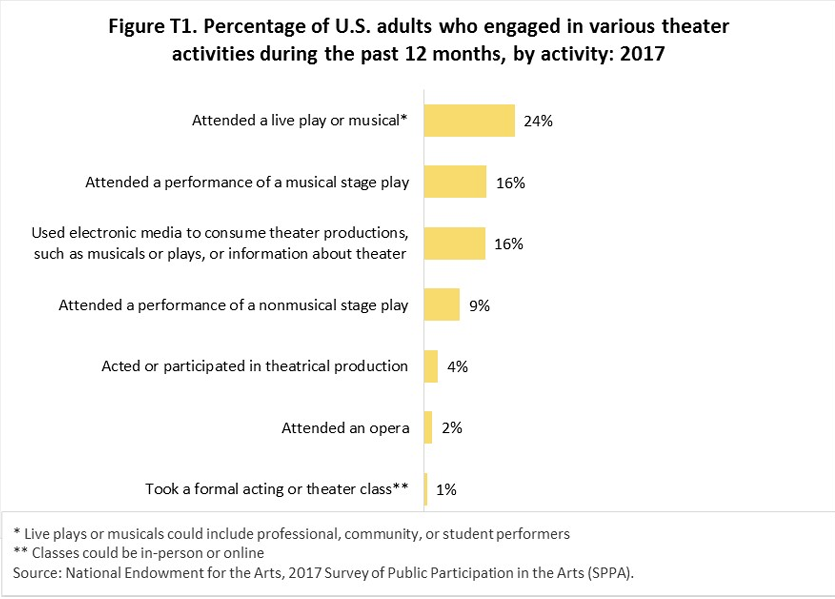 Here is the real difficulty in talking about how to "bail out" theatre, and it goes beyond the decline in people opting for subscriptions, or the perpetual march of cost disease in the live performing arts. You cannot save an art form if people are not interested in attending. Nor can you easily call for an infusion of public funds into subsidizing such a minority taste (and what tends to be a rather well-off minority at that). Theatre, orchestral music, opera, ballet, need an interested and knowledgeable (if not connoisseur-level) cohort of people who make a point of getting out of the house, with all of its attractions of quality big-screens and sound systems, to attend a live show. The problem is us.
Footnote: this was noted a long time ago.