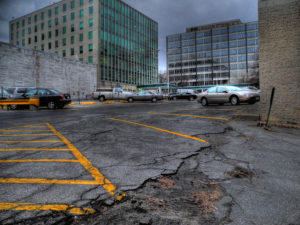 No, I cannot quit writing about economic-impact-of-the-arts reports. Let's try something a little more focused, and talk about … parking.
Parking is part of the cost of attending a show, if it takes place in an area without free parking and you don't live nearby. Economists think charging for parking is ok because your car is taking up scarce space that has to be allocated somehow. Free parking means space is allocated on a first-come-first-serve basis, which is not all that efficient (people have to arrive much earlier for events than they otherwise would, in an effort to secure a space). It's a cost of living in one place but wanting to see things (or go to work or go to school) in a different place, the need to rent a space to put one's vehicle.
"Economic impact" studies of the arts include spending on parking – see the Americans for the Arts, or a recent study posted by artsjournal.com (which seems to think these studies are all worth passing along…) from Chicago. In one sense, the "impact" studies have something right: people often spend money on parking when they go to a show, and parking is a legitimate part of the measured economy.
But consider. People walking to a show therefore have less "impact", as do people who take public transit. If we include parking in "economic impact" it also makes sense to include gasoline, and increased maintenance and depreciation on vehicles (to be honest I don't know if they do include these things). If I run into a deer on the way to see a show in my home town (a not unheard of occurrence), the "economic impact" is really big.
And I just cannot help but ask … Why? Why is one of the benefits of the arts that people pay for transportation and parking? Why do we think the arts in the Chicago Loop are especially valuable because. in part, it costs a small fortune to park there? The way "economic impact" is measured, it would rise if parking lot owners decided to increase rates – why would we see this as a good thing? A sign of the importance of the arts?
Until next time…