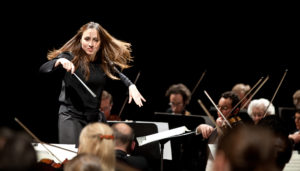 In a new blog post, Anna Bull talks about the paucity of women orchestra conductors, noting only 1.4% of working conductors in the UK are women, and riffing on this statement by award-winning (male) conductor Mariss Jansons:
"Hmm, well. Well I don't want to give offence," said Jansons, "and I am not against it, that would be very wrong. I understand the world has changed, and there is now no profession that can be confined to this or that gender. It's a question of what one is used to. I grew up in a different world, and for me seeing a woman on the podium… well, let's just say it's not my cup of tea."
He later issued an apology:
"it was undiplomatic, unnecessary and counterproductive for me to point out that I'm not yet accustomed to seeing women on the conducting platform. Every one of my female colleagues and every young woman wishing to become a conductor can be assured of my support, for we all work in pursuit of a common goal: to excite people for the art form we love so dearly – music."
But it does raise a question: why do positions for women in the arts seem to thin out at the top, and why do gender pay gaps persist?
In a recent piece in the New York Times, economist Claudia Goldin presents some food for thought (the empirical study was published in the American Economic Review). She finds, for high-skilled, high-pay occupations, the gender wage gap is small or non-existent when the productivity of the employee per hour is invariant to the exact timing or amount of hours. So, consider pharmacy, for example. Pharmacists (and many other bench science jobs) are as productive per hour when they work part-time, full-time, or beyond full-time, and it doesn't matter much when they put in their hours. This means the wage penalty for an employee needing to reduce hours and hours-flexibility when family demands arise is negligible. But in other occupations, say corporate law, the way things are currently structured, very long hours, with little chance for flexibility in when they are worked, are demanded to be productive in the job. Occupations like this have higher gender wage gaps.
What can we say, then, about jobs in the arts? I would venture this: the more a "top" position has multiple, inflexible time demands, the greater the gender differences will be. Does that mean we can look at the gender distribution of orchestral conductor or museum director positions and say "well, that's just market forces"? No, we don't have to do that. In a response to Goldin, Claudia Sahm makes the key point, reflecting on her time working as an economist at the Federal Reserve:
Too many look … and say "ah-hah, it's not discrimination, it's the market." But time demands are not an exogenous shock. Many employers can alter the time demands or support employees in meeting them. At the Board, the 100-hours of back-up child care per year was an amazing benefit when my kids were little. It's a law of nature that your toddler will throw up in the early morning of your forecast presentation. I had the comfort of knowing that a back-up caregiver was only a phone call away. More importantly, at work, I knew that family came first and I had colleagues who would step in (and I the same) in an emergency and not downgrade my contribution as an economist for it.
"Time demands are not an exogenous shock." That I think is key; the way things are currently designed is not engraved in stone. What steps can be taken to structure jobs such that when home demands arise, it is not a career penalty? Claudia Sahm points to two things. First, does the institution help in providing back-up when home demands – whether predictable or emergencies – arise? Second, what about the nature of the job definition itself? This I think gets more complicated, but here is what I think is the main idea: if a long list of job responsibilities are loaded in a non-transferable way onto one person, if that person is somehow the "face" of the organization, a face for which there are no substitutes in the organization, then a situation is created where it will be more difficult for women to advance. Anna Bull stresses the gendered expectations of conductors –
Conductors are figures of male authority that work as a powerful model for how we think about authority in society more widely. Just look at business and management studies journals – there is enormous interest in how conductors gain such (seemingly) tight control over their workers. Conductors even run workshops for business leaders, to show them how it's done
– but I am less sure that's what going on (here's Henry Mintzberg with an interesting piece on the limits to a conductor's managerial authority), rather than the various, intensive public demands on conductors (and I think the same might be true of museum directors). There might be something to be said for a more faceless leadership, not in the sense of dehumanizing who does what in the organization, but rather in as far as possible thinking about leadership teams. The more that people in the organization can seamlessly step in for others when the need arises, the less we would see gender pay and employment differentials.
Footnote: I wrote about Claudia Goldin's study on wages when it first came out a few years ago here