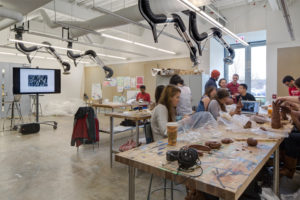 At Bloomberg, Tyler Cowen posts some recommendations on US federal government arts policy. He has written at length about this in his book Good and Plenty; here he gives some ideas for the new administration. The thing I always enjoy about Cowen – especially in his blog – is his ability to put fresh ideas out there as sparks for discussion; this is particularly important in arts policy, which is, especially in the US, conservative and hesitant about any departures from the status quo, save for appeals for more money. He limits himself thus:
I applied several standards to my recommendations. First, they must save the federal government money, to appeal to the Republican Congress. Second, they should stand a chance of appealing to Trump, given his stances on other issues. Third, they should offer a reasonable chance of improving the quality of the arts in the U.S., and fourth, the arts community should not hate every aspect of the changes.
He makes two recommendations, each involving a reallocation of spending:
End the transfer of 40% of the NEA budget to state arts councils; and
Restore NEA funding for individual artists.
The two recommendations are driven by a common goal: help fund more interesting, innovative art. Transfers to state arts councils don't do much for that goal, since they are driven by local politics and the need to serve constituencies on building projects and established arts organizations. Even at the federal level, grants to composers and artists have a chance of doing more to generate interesting art than traditional grants to orchestras and museums.
So, what do we think about this? Whether you agree with his advice or not, he does raise an important issue: arts policy in the US at the federal and state level lack clear goals, and as such rigorous evaluation of the success, or failure, of their policies is near impossible. That in turn explains why the academic literature on arts policy in the US is so uncritical. What is there to criticize? What is the NEA, and in turn the state arts councils it helps to fund, trying to achieve? Without knowing that, it is not possible to evaluate whether transferring such a high percentage of federal arts funding to the states is actually a good use of funds. Nor is it possible to evaluate whether dropping funding for individual artists (except for writers) in the 1990s was a good or bad policy (yes, I know the politics behind it, but we can still ask about the long term effects of the change in terms of outcomes). Who knows?
We are so used to writing about the NEA in terms of politics, "culture wars" and all that, that we are bereft of analysis of arts policy as policy, compared to, for example, the mountains of empirical studies we can find evaluating federal policies in health insurance, education, public housing, or environmental management.
Of Cowen's recommendations, I am solidly behind (2), on the fence on (1). But at least he is trying to suggest an end for arts policy, which in turn suggests ways of criticizing alternative means to those ends and suggesting better ones. More like this, please.