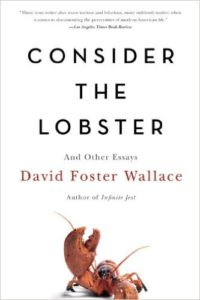 This week The New Yorker had some shocking news: Andy Borowitz is only their second least funny humorist. In his "Shouts and Murmurs" piece "The Pences Visit Manhattan", Douglas McGrath takes the blue ribbon. He begins:
Governor Mike Pence was having a romantic dinner with the love of his life, Mrs. Mike Pence, at the Red Lobster in Times Square. The Governor knew that as Vice-President he would have to attend foreign banquets, so he and Mrs. Pence were trying to broaden their palates. Luckily, they had already found a couple of dishes at the Red Lobster which they liked. Governor Pence was saying a blessing over their chicken wings and mozzarella cheese sticks when the first three notes of "When I Survey the Wondrous Cross" chimed on his phone, signalling a text. As he read it, Mrs. Pence popped a sizzling cheese stick into her mouth and blew out little puffs of steam. "Look at me!" she said gaily. "I'm a steamboat!"
It's downhill from there.
Now, my disagreements with Governor Pence on policy matters could fill a book, and his choice to be the running mate of Donald J. Trump is unconscionable. If writers want to have at him on those grounds, you go.
But that's not what McGrath is doing here. His mockery is not of Governor and Mrs Pence, it is of rubes from the Midwest, and those rubes' preference for comfort food in a big city environment, their religion, their lack of style.
In the years that I have been following artsjournal.com I have seen, at last count, 653,807 articles on how there is a need to diversify audiences for the high arts beyond the well-educated elites. Any organization that seriously wants to do that has to not just "reach out", but to understand where their targeted new audiences are coming from, how their cultural preferences have been formed, why they like what they like and don't like what they don't like, and to respect them as people with agency.
You can do that, or you can throw in the towel where this topic is concerned, stick with the patrons you have, and get a chuckle out of people who would rather eat at Red Lobster than the new fusion place on 6th street.
But you can't do both.