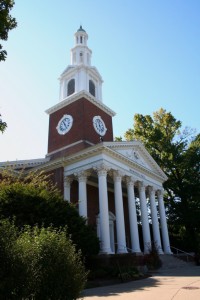 At the University of Kentucky a 1930's WPA-funded mural by Ann Rice O'Hanlon has been temporarily covered while the university administration, faculty and students deliberate on the presentation of the work and its depiction of African-Americans. The story has prompted a response from author Wendell Berry, in an opinion piece in the Lexington Herald-Leader, where he writes:
Though I willingly would do so if it were possible, I cannot understand the University of Kentucky's decision to hide Ann Rice O'Hanlon's fresco in Memorial Hall. The reason given is only that it shows people doing what they actually did. Black people did work in tobacco fields. Black musicians did play for white dancers. Indians did seriously threaten the settlers at Bryan's Station.

Ann Rice O'Hanlon was a native of Lexington. She graduated from the University of Kentucky in 1930. She spent most of her life in Marin County, Calif. She taught art for many years at Dominican College in San Rafael, where her students were of several races. She was the sister of Dee Rice Amyx, wife of Clifford Amyx, once a professor in the art department of the University of Kentucky. My wife, Tanya Amyx Berry, is a niece of Ann Rice O'Hanlon, whom I therefore knew well and for many years. Ann was a liberal, if anybody ever was – too liberal, in fact, to approve entirely of me. I never heard her utter one racist word.

Ann painted the Memorial Hall fresco in 1934, when it took some courage to declare so boldly that slaves had worked in Kentucky fields. Nobody would have objected if she had left them out. The uniform clothing and posture of the workers denotes an oppressive regimentation. The railroad, its cars filled with white passengers, seems to be borne upon the slaves' bent backs – exactly as the railroad near Walden Pond, according to Henry David Thoreau, was built upon the backs of Irish laborers. …

The president … objects to the fresco on the ground that it reminds "one black student . . . that his ancestors were slaves." That statement has at least two arresting implications: (1) that black students should not ever be reminded that their ancestors were slaves, and (2) that white students should not ever be reminded that their ancestors were slave owners. Do students, then, study history at our "flagship university" in order to forget it?
And here at artsjournal.com from Paul Levy, who approvingly quotes Mr. Berry, and writes of his childhood memories of Lexington and UK:
We were always conscious of the university; in fact, we felt it somehow belonged to us. Its basketball and football teams were often of national importance, and we duly went to all the home games. I hated my forced attendance at the basketball games even more than the football, despite the football being outside in sometimes unpleasantly cold temperatures. On the other hand, there were also musical events at UK, which were much more to my taste. There was, for example, the annual performance of Handel's Messiah, and there were chamber music concerts and even some opera – I remember a scratch Carmen.

Some of these took place at Memorial Hall – those memorialised being the dead of World War I – completed in 1929, and in the Greek Revival style common to the town, with the addition of a clock tower and steeple. We were often at events in Memorial Hall: I think I even recall taking part in a children's play there.
and who concludes:
I felt shame – then anger – when I learned that, a few weeks ago, UK President Eli Capiluto caved in to the political correctness lobby and covered the mural with a white cloth. Of course there are some silly students, black and white, who object to the fresco, claiming that the detail that some of the black people depicted appear to be happy is a denial of historical facts.

Whose historical facts? I was the second generation born there, the third (and there was also a fourth) to live there.  They're my historical facts, at least as much as any of the protesting students.
I'll just make a couple of points.
Neither Mr. Berry nor Mr. Levy mention that the building that houses the mural, and the mural itself, were created when UK was segregated. During the time of Mr. Levy's childhood memories of campus, black students were not permitted to enroll. That only changed in 1949, when Lyman Johnson successfully sued to gain admittance as a graduate student (undergraduate students had to wait a few years more). Of course neither Mr. Berry nor Mr. Levy (nor Ms. O'Hanlon) bear responsibility for that fact. But surely it is an odd omission when discussing race and the history of the university. It is not ancient history – the exclusion of black students was during their lifetimes – and the effects of segregation did not suddenly disappear with the first generation of black students. It is a genuine issue in this controversy, and not mere 'political correctness' (can we please retire this tired, lazy phrase?).
It has been commonplace in journalism, especially during the past year, to take some inelegantly expressed, perhaps over-the-top, comment by a student protester, mock it for its unreasonableness and lack of perspective, and somehow conclude that this demonstrates there are in fact no serious issues to address. It's a little too easy.
Did the university president do the right thing in temporarily (let's keep that in mind) covering the mural? I don't know all the facts on the ground, though my leanings are generally towards openness and facing works, however problematic, directly. That said, let's recognize the importance of addressing public monuments and art from earlier times, and what they say to us – all of us – in the present and future. Mr. Levy has a history, he emphasizes his history, at the University of Kentucky. Fine. But the history of the University of Kentucky (and let's face it, most all universities, including my own) also involves the generations excluded on the basis of race, even as their ancestors were being depicted in murals on campus. Who can blame students for thinking this is something to talk about?