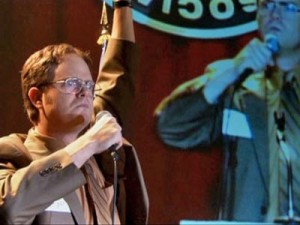 April 16, 2015 marked the opening session of a conference held at the School of Public and Environmental Affairs at Indiana University Bloomington, on Advancing the Field(s) of Nonprofit Management: New Structures, New Solutions. I was asked to speak about the arts, specifically about relationships between nonprofit arts organizations and the commercial and public sectors. Our session chair, my SPEA colleague Beth Gazley, asked us to say something 'provocative' in our allotted few minutes. So, for what it's worth…
Artists, and nonprofit arts organizations, have always worked collaboratively across sectors. A nonprofit organization books commercial touring artists to perform in a city-owned facility the nonprofit has been contracted to manage. A nonprofit film festival receives funding from a public arts agency to show independent films whose producers hope to sell to a commercial film studio. A nonprofit orchestra performs in a publicly-owned facility and records with a commercial record label. Works of visual art that eventually make their way into nonprofit museums make their debut in commercial art galleries, and are subsequently exchanged at commercial auction houses. None of this is particularly new.
Is there much to be gained by thinking about the aggregation of nonprofit organizations in the arts as a 'sector'? I don't think so.
I will begin with a paragraph from former National Endowment for the Arts Chairman Bill Ivey's book Arts, Inc. (2008). He writes:
Because the fine arts are mostly organized as nonprofits and because the fine arts are viewed as markers of sophistication, educational accomplishment, and virtue, the sector has come to think of itself as the only significant source of quality arts programming in the United States. When arts people talk about the cultural industries the dismissive term used to characterize the for-profit arts is commercial, suggesting an arena in which bottom-line concerns consistently trump the demands of artistry. In contrast, the nonprofit arts are seen as "mission driven" – purveyors of "excellence." This assumed qualitative distinction, of course, does not hold up even to superficial scrutiny – many of our most highly regarded arts activities are almost exclusively organized for profit – but the notion survives as an often-invoked mark of nonprofit distinction – one that has allowed long-standing elitist prejudice to insert itself into policy. Over time the dismissive attitude of nonprofit advocates has taken on the character of a full-blown ideology – an explanation of reality that is widely shared but unexamined. Thus, the notion that a nonprofit business model invariably produces higher-quality art is a tenet of nonprofitism, an ideology that has encouraged a smug sense of entitlement in the arts community. In addition, nonprofitism has kept the sector isolated, preventing arts organizations and arts advocates from engaging real cultural issues like fair use, media regulation, trade in cultural goods, and the scope of intellectual property protection. Unfortunately, nonprofitism's intellectual bookends, disdain for the commercial sector combined with an obsessive concern for public and philanthropic support, have to date pretty much defined the limits of the U.S. cultural policy debate.
That nonprofits are the exclusive domain of excellence in the arts is obviously wrong, as Ivey points out. Yet the notion that nonprofit arts are somehow better, or, to use an old term, high brow, persists to this day. Just a few days ago I read a new paper on the nonprofit sector that claimed for-profit arts cater to "popular culture and entertainment" such as "romance novels", without informing us of what sort of organizations the authors believe publish award-winning literary fiction and nonfiction. The Gagosian Gallery, Farrar, Straus and Giroux, and Deutsche Grammophon present the highest quality art.
Furthermore, nonprofit arts organizations adopt many of the business methods of commercial firms, and always have. I recently wrote a book on pricing in the arts, and we can see every method of profit-maximizing price discrimination – market segmentation, two-part pricing, nonlinear pricing based on quality and quantity of purchase, tied sales, and now dynamic pricing – employed by nonprofit theatres, orchestras and museums. The "bottom-line" is just as relevant in nonprofit arts organizations as it is in commercial firms.
Although Ivey's book is just seven years old, during that time I think we have seen an important shift in American cultural policy, one that begins to loosen the border between nonprofit and commercial arts firms.
The most influential book on cultural policy in this new century is Richard Florida's The Rise of the Creative Class (2002). I don't believe his intent was to write a book on cultural policy, but it happened nonetheless. Mayors and local economic development officials, and arts advocates, grasped on the idea that an interesting urban cultural life would attract human capital-loaded individuals to want to move to their city – the cluster of artists and other creative types would improve productivity and invention (and, in turn, incomes), and would also provide a pleasant place to spend one's leisure hours. "Vibrant" became the buzzword.
As a result of all this, arts policy began to shift away from simply directing grants to nonprofit arts organizations (typically the only arts organizations eligible for grant funding) and, in some cases, individual artists, and towards thinking about neighborhoods and cultural districts. But cultural districts are not just about the nonprofit arts. Click on any town's cultural district website and you will read about nonprofit museums and the local symphony, but also about local commercial galleries, cinemas, coffee houses and craft breweries. Which, of course, makes sense: any interesting neighborhood has all those things; we cannot be entertained by nonprofits alone.
Even the National Endowment for the Arts has been a part of this shift away from an exclusive focus on nonprofit arts organizations. Consider these examples:
In 2014 the NEA held, jointly with the UK's Arts and Humanities Research Council, a symposium on measuring cultural engagement. A theme through the report of the conference is on broadening definitions of cultural participation and engagement beyond in-person attendance at nonprofit "high arts" performances.
The NEA partnered with the U.S. Bureau of Economic Analysis to try to measure the size of the cultural sector and its proportion of total U.S. GDP. The figures, released earlier this year, do not distinguish between nonprofit and commercial creative industries.
The NEA began its "Our Town" program, about which it says:
Through Our Town, subject to the availability of funding, the National Endowment for the Arts will provide a limited number of grants for creative placemaking projects that contribute towards the livability of communities and help transform them into lively, beautiful, and resilient places with the arts at their core. Our Town prioritizes partnerships between arts organizations and government, private, and nonprofit organizations to achieve livability goals for communities.
There are certainly some interesting issues involving nonprofit arts organizations as a specific class of organizations: governance issues between management and board, or trends in fund raising, for example.
But if we want to talk about art – how people experience it, what it means to local economies and to city life more generally – focusing on nonprofits with the exclusion from consideration of other sorts of organizations no longer makes sense, if it ever did.