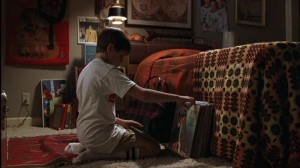 Think of your cultural consumption in your late teens. It was pretty great, wasn't it? Favorite bands, and getting their new LP within days of release, favorite magazines about music and films and books, lining up to get tickets for the movie everyone in the papers was talking about. I have my own list of memorable moments, I think we all do. And we remember what was best – the great concert, the cover of an issue of Rolling Stone you kept lying around for years after, the movie you talked about with your friends for hours following the screening, the first tastes of contemporary fiction written for grown-ups. I still have those worn paperbacks on my shelf, maybe my kids will read them, maybe they will be bored by them.
And what has this new age, the internet age, given us? Something worse, we are often told. Sometimes the nostalgia is movingly written, as in the recent article in The Pitchfork Review by Simon Reynolds, on music magazines in Britain in the late 1970s, sometimes it is a mess, as in Will Self's piece on how 'The Novel is Dead', and sometimes it reflects a frustration with the tastes of kids today and the corporations who feed that appetite, such as Kenneth Turan's recent column on how crummy and narrowly focused Hollywood has become (notwithstanding an article in the same newspaper only days later on edgy new films). I am close in age to Reynolds and Self, and so I 'get' their starting point, following which it has been a steady decline.
But, to quote the same film twice in one piece, maybe we could look on the bright side of life? I remember good things about culture in the 70s and 80s, memorable experiences. But I also know that I paid far higher real prices for recordings, from a very limited selection, to hear on equipment much more expensive, and of much lower quality, than available now. The only place to see movies commercial-free was at the cinema, and even in the big (-ish) city in which I lived there was not a lot of selection. What books were available depended on the local library and small bookstores, the selection tended to be somewhat parochial, even if I didn't know it, because there were few places to read about what was happening in world literature. Television had a limited selection of channels, and there is surely universal agreement it was simply not very good. News was limited to radio and television evening newscasts, local papers, and a few, pricey, magazines.
Today? The selection and quality of recorded music (including all of your most-loved bands from the past), and the ways in which you can hear it, the availability of old and new movies from around the world, past and present, and convenience of seeing them, the world of books that can be delivered to your door on paper or to an e-reader at super speed, news and *good* reporting on issues that matter, also global and up-to-date (taking my own field of economics – the quality and quantity of solid reporting on economic issues available at my desktop is of countless magnitudes better than was available when I was a student), and excellent critical writing, on music, film, literature, and art, also at easy access, when in pre-internet days it would either not have existed, or would have been very difficult to come by. And all of this is available at very low cost, in every case far cheaper in real terms than we had to pay back in the day. That's what the internet and the economy around it have brought. The cultural critics who fail to see this, or who jump to 'yes, but …' claims about our diminishing attention spans, or the excitement of having to wait for a hard copy to appear on magazine racks, or how LP's were just so much better with their warm sound, or how no one pays due attention to novels anymore, are missing a crucial element of sound criticism, which is a sense of perspective. To say that it is all going downhill, that culture is crashing, is to have lost perspective on the vast cultural riches that have become so widely available to us.