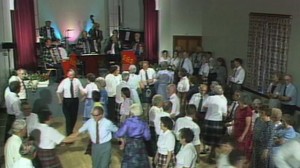 Via The Stage, what arts funding should have priority? The (UK) All-Party Parliamentary Group on Wellbeing Economics has released a report recommending that changes in the wellbeing of individuals ought to be the central concern of policy, beyond calculations of narrower economic measures such as are at the core of standard cost-benefit analysis. They have striking recommendations for arts policy.
First, about wellbeing economics. In essence, the leading economic indicators we see reported most commonly have obvious effects on wellbeing. We are better off with employment and stable income than being unemployed and in poverty. But there are many aspects of wellbeing not captured in the headline statistics: health, social connection, political empowerment, the beauty of the natural and built environment. Sometimes the headline number matters more than is reported: long-term unemployment has many negative effects on wellbeing beyond the loss of income, for example. Finally, and importantly, measuring gross income or unemployment rates fails to capture the effects of inequality, most pointedly because extra income going to the poor matters much more for total wellbeing than the same amount of extra income going to the already well-off.
What are the findings for arts policy? Two important ones. First, arts participation – actually doing something – matters much more for happiness and wellbeing than simply being a member of an audience. Taking 100 people to a dance matters more for wellbeing than taking 100 people to the theatre. Second, arts participation has a larger effect in poorer, isolated areas than when directed at the well-off. Overall, the Report calls for much more targeted expenditures, and the report as a whole asks all government departments to report on how they believe spending initiatives will affect well-being.
The Report is well-presented, avoiding overreach or grandiose claims about the benefits of arts participation, which is so often about people simply enjoying themselves.
What about 'art for art's sake'? There is no such thing. Art is for people, and the question at hand is 'which people?' There are art forms whose main impact is on other artists, on elites, on larger audiences, on small audiences who might be rich or poor but who have a special connection to the genre, or on future generations (when it comes to conservation of objects and traditions). But it is always about somebody, and public funding of the arts always has to begin with a good sense of who that 'somebody' is.
To anticipate a response: would this mean the end of public funding for opera? Not necessarily. But it does force the question of the desired outcome of the spending – who is it for, and how do they benefit? Arts policy cannot avoid the question.
Personal footnote: My parents are Scottish. I was raised in Vancouver, where they had emigrated, and I grew up listening to Jimmy Shand records. They told me when they themselves were teenagers they would go to dances in their home (small) towns many nights a week. They said those were very happy times, and in Canada they would host parties where their Scottish friends would come over, they would dance to the records until all hours, and in the morning would lament that we reserved Canadians did not know how to have fun. Funny what memories come to mind after reading a Parliamentary report!