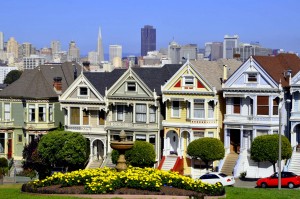 Gay men tend to live in expensive cities with nice amenities, both cultural and climactic. Does that mean they are rich? At the Atlantic, Nathan McDermott reports:
Who are America's gays? To hear it as Supreme Court Justice Antonin Scalia would have it, gays are a privileged set, living it up in cities across the country. As the justice wrote in his dissent to Romer v. Evans—a landmark 1996 case that overturned a Colorado state constitutional amendment prohibiting legal protections for gays and lesbians—"Those who engage in homosexual conduct tend to reside in disproportionate numbers in certain communities." Even more ominously, to Scalia, they have "high disposable income," which gives them "disproportionate political power… to [achieve] not merely a grudging social toleration, but full social acceptance, of homosexuality."

The pernicious insinuation—that gays and lesbians are one the wealthiest demographics in the country—isn't a new cliché. Some of the most ingrained public images of LGBT people are their cosmopolitan, highfalutin lifestyle; gays, so the story goes, live in gentrified urban neighborhoods like The Castro in San Francisco or Chelsea in New York, eat artisanal cheese, and drink $12 cocktails.

But like most stereotypes, the myth of gay affluence is greatly exaggerated.

In reality, gay Americans face disproportionately greater economic challenges than their straight counterparts. A new report released by UCLA's Williams Institute found that 29 percent of LGBT adults, approximately 2.4 million people, experienced food insecurity—a time when they did not have enough money to feed themselves or their family—in the past year. In contrast, 16 percent of Americans nationwide reported being food insecure in 2012. One in 5 gays and lesbians aged 18-44 received food stamps in the last year, compared with just over 1 in 4 same sex couples raising children. The LGBT community has made huge political strides over the past decade, but in economic matters they still lag far behind the rest of the country.
So where does the perception of 'gay wealth' come from? Let's look to two studies. The first, by Dan Black et al, in the Journal of Urban Economics, asks why gays tend to live in such expensive cities. They hypothesize (and the data back them up), that gay couples tend to have fewer or no children on average, and as such do not have the demand for housing space that couples with children have. Thus, instead of spending what income they have on big houses with big yards, they spend their money less on the number of square feet and more on the amenities of the local community. Further, they choose 'adult' amenities (cultural, recreational) over the typical 'family' amenities (great public schools, for example). Of course this does not apply to all gay couples or singles, but that's how the aggregate data trends. And it is not just a gay thing; the research finds heterosexual couples who are childless and unlikely, because of their age, to ever have children, make similar location decisions.
For the second study, look to Richard Florida, especially the research collected in his book Cities and the Creative Class. There, he finds a correlation between gays and technological innovation and creativity. He hypothesizes that metro areas that are more tolerant of gays (which are, in turn, more attractive places for gays to live) are also more creative – creative communities are communities tolerant of differences. And creative, innovative metro areas, have high, and growing, incomes.
Each of these studies finds that gays tend to live in expensive cities. A shallow analysis, one guilty of the 'ecological fallacy', where inferences about a sub-group (in this case, gays) are made based upon aggregate area data (in this case, average incomes in the metropolitan area), such as McDermott reports on, would hold that since gays live where there are lots of rich people, gays must be rich.
But that is not necessarily true at all. Neither the study by Black and his co-authors, nor the work of Florida, suggests that gays have higher incomes – they are not guilty here! But gays will live in cities with high cultural and other 'adult' amenities, and those are things that wealthy people also like to purchase.
Always be wary of speakers who make generalizations about sub-groups based on aggregate data.