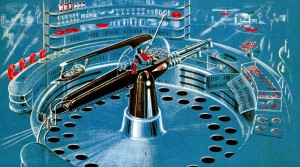 At Marginal Revolution (which often has posts on the economics of the arts – you should be reading it!), Tyler Cowen points us to Paleofuture, which gives a 1940s version of the 'kitchen of the future.' We would no longer use dishes ('antiques') since our food would be processed and dehydrated.
The 1960s cartoon The Jetsons imagined some similar changes in interior design, although the cooking and cleaning would be done by a robot maid.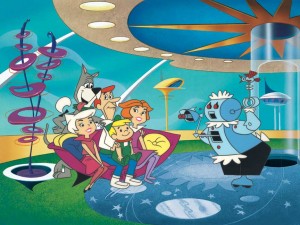 What has interested me about visions of the future is that they share a common bias: the aspect of the world undergoing the most significant change at that time is expected to continue along an innovative path, and aspects that are relatively static at that time are expected to remain so. In mid-century we saw advances in processed foods. And so it was imagined that these would eventually completely replace non-processed foods. No more farmers' markets. And assembly line technology increasingly relied on advances in robotics. If robots could punch rivets in cars on an assembly line, why wouldn't it eventually be the case that they clean our homes?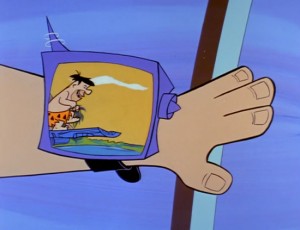 Consider that the Jetson family would view television on their wristwatch. In the 1960s watches were getting more sophisticated, and so the expectation was that in the future we would have the most amazing wristwatches. But we don't. We have amazing telephones, which are very small and we can carry anywhere, and use them to watch tv and catch up on the news and send messages to friends and play games and take pictures. Oh, and talk on the telephone too. And they'll tell us what time it is. But no one saw that coming – telephony was, in most people's eyes, a fairly static piece of technology.
Or, to leave the world of cartoons, consider the book and the film 2001: A Space Odyssey. We see technological innovation on two fronts: space travel, and computers. The advances in space travel are vastly over-estimated. But in the 1950s and 1960s space exploration was moving at a rapid pace, and that pace was projected to continue such that we could explore other galaxies. Computers were advancing to some degree, but as you watch the film notice how it seems to under-estimate the advances in information technology and telecommunication. Who could have known?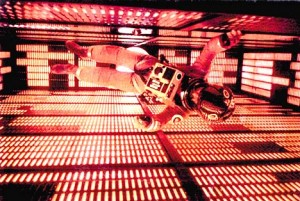 It is inherent in the nature of technological change that we do not know what is coming next. If we know future technology, then it's not really future, it's current. And guesses about what the future brings are prone to bias – we project the most active current spheres of technological change into the future, when there is no guarantee that such trends will continue.
Footnote: I went camping on the weekend, and brought along, of course, a Coleman two-burner stove. These were developed in the 1930s, and are essentially unchanged since then – an amazing piece of technology. Not sure what people in the 1940s thought camping would be like in 2013; they might be surprised to know we still make breakfast the same old way.