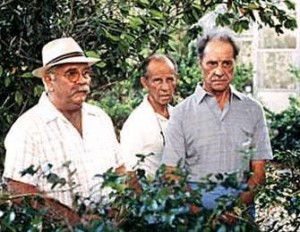 From the Priceonomics blog:
You've seen them on the bus, in museums, and at movie theaters: senior discounts. As a reward for being old, senior citizens pay a quarter less for bus fare, a small fortune less for movie tickets, and receive discounts generally all over the place.

If you're a twentysomething, or part of what some journalists have colorfully called "the screwed generation," you may be wondering: why not me?

The idea that seniors are a group in need of help and protection dates back to the thirties, when America's senior citizens were disproportionately poor and affected by the Depression wiping out everyone's savings. In 1935, President Roosevelt passed the Social Security Act, which gave federal assistance to the elderly. This became the norm. Aid to seniors increased over time, in particular with the creation of Medicare in 1965 and the passage of an amendment indexing social security to cost of living increases and creating an additional Supplemental Security Income for seniors in 1972.

As two poverty economists note, "One of the most striking trends in elderly well-being in the twentieth century was the dramatic decline in income poverty among the elderly."
This makes the error of believing that any discounts we see, even in the commercial realm, are necessarily trying to effect some redistribution of purchasing power from rich to poor. But that is not necessarily the case.
It is true that a major change in the nature of income distribution and poverty since the 1930s has been through Social Security and Medicare; the incidence of poverty amongst the elderly has sharply declined (although it has not disappeared). But many discounts we observe in the market are targeted at seniors not because they are poorer but because evidence suggests they are careful shoppers, mindful of prices, searching for deals. The discounts at cinemas may be the result of (misdirected?) altruism by the owners, but it also could simply be a realization of different willingness-to-pay by seniors, a group that is easily identified and segmented by the presenter. Seniors pay less for groceries than non-seniors who shop at the very same stores, not because of discounts labelled "seniors discount" but because they take advantage of coupons, and random sales. In that case, the store recognizes different willingness-to-pay by a group but employs indirect price discrimination to provide the discount.
Each of the nonprofit theatre companies in my town offers small-ish discounts to seniors on tickets. The discounts could have arisen from trying to help what was perceived to be a poorer demographic, or perhaps because of evidence on willingness-to-pay (although I actually doubt many theatres go about gathering such data). Once it becomes the norm in the local cultural world it becomes difficult for any single organization to stop offering the discount, as it will stand out, surprise buyers, and could cause significant loss of business. So whatever the reason for bringing in the discount in the first place, I imagine it will not easily be dislodged.
UPDATE: On the other hand … Dylan Matthews reports that out-of-pocket medical expenses for seniors generate higher poverty levels than we might have thought.