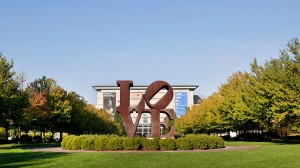 Preamble: I know what I don't know. Specifically, when looking at any arts organization and its menu of prices, I do not have insider knowledge of its current or potential audience, its donors, or its costs. So when I comment on the price structure of any specific museum or other arts firm, I do so only by asking questions, not by advising what it should or should not change. And with that cleared up …
Why does the Indianapolis Museum of Art have free admission? In her neighboring blog, Judith Dobrzynski describes the fiscal troubles at the IMA, with layoffs to come. She quotes IMA director Charles Venable as stating there needs to be an increased emphasis on "earned revenue", and less reliance on endowment. I'll have to confess that I've never understood the free admission policy in the first place. Yes, there are admission fees for special exhibitions, but at the moment all exhibitions are free as well.
Furthermore, Indianapolis residents are accustomed to paying admission fees. The Indiana State Museum is not free, the Eiteljorg Museum is not free, the Children's Museum is emphatically not free. So it is not as if competition has driven the IMA to free admission.
Also, the IMA is not in a location to which one walks. You drive there. Visitors have enough of an investment in wanting to see the art that they are willing to make a journey of it. Which suggests to me that a moderate admission fee would not deter many visitors, given they are already willing to pay a cost in travel time.
And if the goal is an intended benefit to lower-income people interested in art, I can only direct to my earlier post on whether this is the best means of targeting benefits to such folk.
Again, I don't know the details of the IMA's visitors, or other potential sources of revenue. But from the outside at least, the policy is something of a mystery.