Last week in London I was able to see the much discussed Donmar Warehouse production of Bruce Norris' new adaptation of The Resistible Rise of Arturo Ui.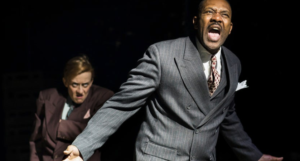 It's not hard to see why Brecht's satirical account of the rise of a clownish American dictator would find its moment now, amidst a global wave of unbridled populism and unapologetic me-first-ism. The orange hair is just the cherry on top.
The original version of Arturo Ui, written in 1941, was about Hitler, sure. But as in all of his theatrical work (playwriting, directing, theorizing for social change), Brecht's goals were far more complex than a simple "wake-up call" about the dangers of authoritarian regimes. Arturo Ui is more an indictment of American capitalism—the kind of self-interested economic policy that had not as yet, in 1941, determined that it was financially advantageous to exit the "America First" ideology that had thus far kept the country out of the war. Brecht set the play in depression-era Chicago in order to point directly at a socio-economic system in which the coming of our own home-grown dictator was inevitable. If we didn't change our ways.
The Donmar production, which closed on June 17, was riveting: gleefully literal (taking on Trump with a cartoonish ferocity) and nearly combustible in its acting and staging choices. The audience participation segments, though largely predictable, were satisfying, particularly at the end as we were offered the choice of supporting Arturo (by standing), or resisting him (by sitting).
So why did I leave the theatre feeling like shit?
Because I know what Brecht intended when he wrote Arturo Ui, and it was not to arouse and then easily assuage my middle class progressivism by giving me the opportunity to "resist" Arturo/Donald by taking a seat at the end of the play. Brecht sees me as complicit in a capitalist system that elects leaders like Hitler and Trump. And I knew, as I walked out of that London theatre, that I was complicit. I thought, for example, about the fact that I'm still watching CNN in order to gloat at Trump's latest idiocy, even though it has been amply illustrated that CNN's 24/7 Donald Trump coverage played a major role in his election to the presidency. I know perfectly well that when I watch CNN I'm contributing to the network's ratings and thus to its corporate profitability and thus to the health and well-being of the neo-liberal state, which doesn't give a shit about anything but the bottom line.
The good news about my audiencing experience at Donmar? It prompted me to put some serious thought into my role thus far in the Trump debacle. Brecht would approve of that at least.
Those of you living in the Los Angeles area who are interested in these kinds of questions might consider attending the Zocalo Public Square conference this Sunday (June 25) at the Omni Hotel (free and open to the public with advance registration). I'll be participating in a panel entitled "Does Art Really Make Us Better Citizens?"
Maybe I'll see you there?