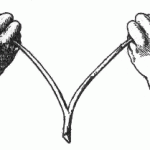 In the arts industry, "artistic excellence" is routinely posited as an empirical fact—a thing outside of our individual heads and hearts that is locatable, measurable, quantifiable and justifiable. Like thirsty shamens with divining rods, somehow those of us with aesthetic expertise can locate artistic excellence through the vibrations we feel when we get near it.
I'm skeptical. First of all, I think our industry use of the term "artistic excellence" is messy. Sometimes we are referring to professional standards: the technical proficiency of a musician or dancer, the sophistication of a play's dramatic arc, the architectural flow of a sculpture, the harmonic intricacy of a musical composition. This usage makes sense—there are (somewhat) tangible guidelines in all of these disciplines for technical and structural achievement that we can, generally speaking, agree upon. (Except when we can't—which is more often than most of us would like to admit.)
But arts workers often conflate that definition of excellence with something far less tangible and thus far less quantifiable: taste. And taste, as I argued in my last post, is a socio-economic construct that is, by definition, fluid.
That is because taste is part of the meaning making process. Personal taste in everything from beer to Shakespeare comes about through a combination of biology, past experience, cultural norms, and individual predilections. It is not by accident that the English word taste refers both to the gustatory sense and to a sociocultural process—both usages have their roots in the Latin taxare, meaning to evaluate or to handle.
On a biological level, gustatory taste is rooted in special neural systems that ward us away from bad foods. As cognitive psychologist Paul Bloom points out, babies and young children cannot be disgusted (the word's literal meaning is "away or apart from taste"); that reflex emerges at about age three as an aspect of neural development. In a related fashion, preference, an aspect of taste that also has biological roots, is clearly affected by knowledge. Knowledge "doesn't change the experience itself but instead the value that we give to the experience," states Bloom, "and this alters how we talk about it and think about it." The major point here is that belief affects experience itself. So taste, as an aspect of experience, is driven by belief.
Which leads to the definition of taste derived from our social experience. We are born into our tastes via social class, ethnicity, even family preference ("what my group likes"). We are socialized into our tastes via associations with various sub-cultures ("what I need to like in order to be a part of this group"). And we acquire our tastes via individual expression ("what I personally like/my thing").
In Distinction: A Social Critique of the Judgement of Taste, philosopher Pierre Bourdieu argues that taste is a sociocultural construction based on class structure and what he calls habitus—those aspects of culture that are anchored in the daily practices of individuals, groups, societies, and nations and that produce and reproduce the practices of an economic class. As Bourdieu understands it, any given habitus not only informs but also controls cultural capital, his by-now well-worn term for the accumulated knowledge necessary to make cultural distinctions (and thus to operationalize taste making).
In Bourdieu's view, taste is less an ontological or epistemological problem and more a behavioral phenomenon—we acquire our good taste by emulating those with good taste. We in turn also regulate social mobility by using taste as a weapon of social stratification, because, as Bourdieu argues, the "most intolerable thing for those who regard themselves as the possessors of legitimate culture is the sacrilegious reuniting of tastes which taste dictates shall be separated. This means that the games of artists and aesthetes and their struggles for the monopoly of artistic legitimacy are less innocent than they seem."
The struggle for the monopoly of artistic legitimacy is the history of civilization, of course, and there will always be new taste makers (artists, aesthetes, administrators, critics, historians, bloggers) to continue that struggle. That's a good thing. We all benefit from rigorous discussion about legitimacy in any field. The arts are no exception.
But a healthy arts ecology is about more than artists and aesthetes. We need to find productive ways to invite audiences of all tastes (and all economic and ethnic backgrounds) to join in the conversation about (the struggle over) meaning and value.
And we need to find the generosity of spirit to create more space for audiences of all tastes to explore their knowledge and experience of the arts with us.