This article originally appeared in the Culture section of Bloomberg News on February 8, 2008.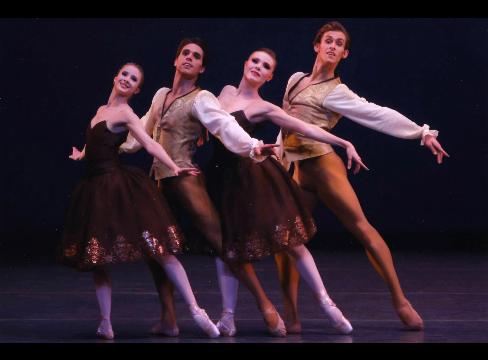 Ballet dancers, from left, Sterling Hyltin, Giovanni Villalobos, Sara Mearns, and Adrian Danchig-Waring perforn in the New York City Ballet production of "Rococo Variations" in New York. Photographer: Paul Kolnik/NYCB via Bloomberg News
Feb. 8 (Bloomberg) — "Rococo Variations," set to Tchaikovsky's "Variations on a Rococo Theme," is Christopher Wheeldon's final offering as the New York City Ballet's resident choreographer. He relinquished the position, created for him in 2001, to concentrate on his own small troupe, Morphoses/The Wheeldon Company.
The premiere last night, at New York's Lincoln Center, revealed an intimate quartet, at once sweet and strange. The ballet looks both to the past and to the future. Two couples — Sterling Hyltin and Giovanni Villalobos, Sara Mearns and Adrian Danchig-Waring — friends who double-date, exude a faint perfume from the Rococo era early in the piece, with their ornate, formal behavior, even in the cut of the ladies' aubergine, gilt-edged skirts. As if part of a long-ago social dance, they mirror each other or perform complementary moves.
Yet soon oddities creep in. The unexpected intrudes upon the conventional, often in midphrase. This aspect of the choreography, typical of Wheeldon, works well here, reflecting the small vagaries of love even in ostensibly compatible couples. Characteristic of Wheeldon too is his having the dancers use the floor the way modern dancers do — as an element familiar as the air that classical ballet usually favors. Lifts, though rare, become offbeat and startling, almost deliberately peculiar.
In Tchaikovsky's seventh and final variation, the sole extended allegro passage in the score, Wheeldon gives his four dancers more conventional choreography than anything that preceded it. They perk up and behave as if their relationships had no subtext whatever, as if love could be simple and perfect.
"Rococo Variations" is a pleasant, if minor, affair, ravishingly performed.
Nikolaj Hubbe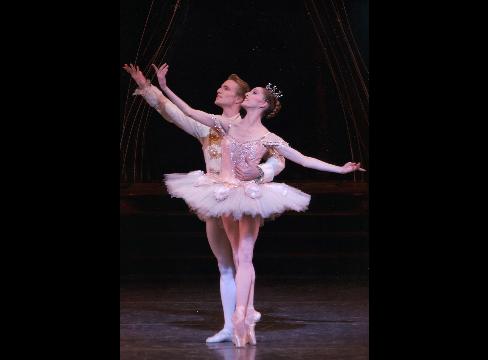 Wendy Whelan, as Princess Aurora, right, and Nikolaj Hubbe as Prince Desire perform in "The Sleeping Beauty," produced by Peter Ilyitch Tschaikovsky, at the New York City Ballet. Photographer: Paul Kolnik. Source: New York City Ballet via Bloomberg News
City Ballet is preparing a major sendoff for principal dancer Nikolaj Hubbe, who gives his final performance at Sunday's matinee. Tickets are sure to be scarce, the cheers and tears no doubt copious. This is only fitting when a unique artist retires from the stage. Hubbe goes on to a terrific job as artistic director of the Royal Danish Ballet, which bred him.
His daring imagination, bolstered by buoyant technique, has no equal, and its absence from the City Ballet will leave a discernible void.
Born in Copenhagen in 1967, Hubbe rose to the highest rank of the Royal Danish Ballet at the precocious age of 20. Like many of Denmark's superb male dancers before him — among them, Peter Martins, who now heads the City Ballet — Hubbe responded to the siren song of the Balanchine and Robbins repertory and the thrill of New York itself, joining the company as a principal in 1992.
Potent Actor
From the very start of his career, Hubbe was as potent an actor as he was a notable classical dancer. People still talk about his unforgettable guest performance with the Danes as the hero, James, of "La Sylphide," opposite Sorella Englund, a character dancer whose talents match his, as the witch who is his undoing. Their interaction was so deeply intimate and emotionally turbulent that it seemed to go beyond theatrical boundaries. You sat there thinking maybe the police should be called in.
When Hubbe's athletic prowess ebbed with age, his imaginative gift came even more to the fore. Just a few weeks ago, playing The Poet in Balanchine's "La Sonnambula," he cast aside the conventional interpretation of the role. Instead of being the innocent visionary corrupted by an evil society, he treated both the loose woman and the angelic (perhaps ghostly) one he encounters as objects of his sensual hunger. This maverick portrayal offered the most intense and believable drama I've seen in years on the City Ballet stage.
Hubbe will dance four of the five items on his farewell program: Balanchine's landmark neoclassic ballet "Apollo"; "Zakouski," a lively bagatelle choreographed for him by Martins; "Cool," from Robbins's "West Side Story Suite" (in which he also sings); and the rakish final section of Balanchine's "Western Symphony." A very young, very promising pair will offer the enchanting "Flower Festival" duet by Denmark's August Bournonville — a heartfelt tribute to Hubbe's roots as he returns to them.
New York City Ballet performs through Feb. 24 at the New York State Theater, Lincoln Center, Broadway at 65th Street. Information: +1-212-721-6500; http://www.nycballet.com.
© 2008 Bloomberg L.P. All rights reserved. Reprinted with permission.