This article originally appeared in the Culture section of Bloomberg News on February 23, 2008.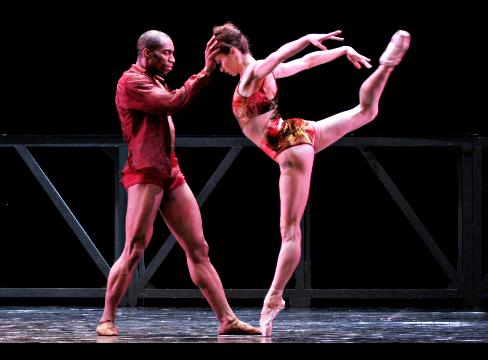 Desmond Richardson, left, and Diana Vishneva rehearse for "Diana Vishneva: Beauty in Motion" in New York on Feb. 13, 2008. Performances will be held at the Manhattan City Center through Feb. 24. Source: Helene Davis PR via Bloomberg News
Feb. 23 (Bloomberg) — Even the curtain call was costumed, the ballerina wearing a gleaming black gown cut Victorian style but slashed to reveal bare skin and cradling in her arms an extravagant sheaf of calla lilies.
"Diana Vishneva: Beauty in Motion," at Manhattan's City Center through Sunday, was devised by the same folks who concocted the disappointing "Kings of the Dance." Like that earlier venture, this glitzy showcase for the phenomenally accomplished Kirov ballerina appears to be mainly focused on exploiting the star's box office appeal.
The program takes the novelty route, with three ballets commissioned for Vishneva that are pointedly unlike the material she dances with her home company or with American Ballet Theater, with which she now performs every spring at the Metropolitan Opera House.
Dwight Rhoden, who heads the Complexions Dance Company, provided the most striking piece, "Three Point Turn." It explores the theme of fraught love as athletically as can be imagined. Vishneva and Desmond Richardson, who might be called Rhoden's muse, are backed up by two other couples, at first more innocent and dreamy, then infected by the savage extremes set by the main pair.
Initially Vishneva and Richardson embrace, kiss and make gestures of submission and tenderness. Then they proceed, at inordinate length, to beat the hell out of each other. They finish on a note of unexpected conciliation — a hard-won happy ending. Maybe 20-somethings will see themselves in this mirror.
Black Light
Moses Pendleton, who directs Momix, a Pilobolus spinoff, created "F.L.O.W. (For Love of Women)," which presents Vishneva in three gimmick-driven guises. In the first segment, she's unrecognizable, one of three women animating black-light effects in which undulating limbs seem to float like swans on a lake or skeletons come unhinged.
Next we get the ballerina alone, wearing only a flesh- tinted leotard, bathed in a golden glow as she lies on a large mirrored platform tilted toward the audience. Hints that the figure is making love to herself take narcissism to a new dimension. Finally, in another solo, Vishneva sports a cage of bead chains that fall from her head to the floor or swirl around her as she turns.
Protean Quality
Surely Vishneva's protean quality is better revealed in her customary repertory, which has an extraordinarily wide range — from her tragic Juliet (in the Kenneth MacMillan version of the classic) through her jazzy ballerina in Balanchine's scintillating "Rubies."
"Pierrot Lunaire" — choreographed to the Schoenberg song cycle by Alexei Ratmansky, artistic director of the Bolshoi Ballet — is by far the show's most intelligent item. It's a postmodern take on commedia dell'arte. Granted it lacks the traditional knockabout plot and Harlequin figure. Still, it boasts not one but three Kirov men as Pierrot, moonstruck, the eternal clown and visionary, miming in the grotesque commedia style but dancing classically.
Vishneva is a charming Columbine type, a marvel of technical exactitude and mercurial moods. The two big drawbacks to the piece? Vishneva — the woman who can do everything — lacks soul, and Ratmansky is not quite up to the strange beauty of the music.
Even if the commissioned ballets were more worthy, and even though Vishneva's skill and versatility are remarkable, the program proves that a ballerina is most potent in the context of a full company — at best, her own, from which her style springs, or a least an institution of the same caliber.
Through Feb. 24 at 131 W. 55th St. Information: +1-212-581- 1212; http://www.nycitycenter.org.
© 2008 Bloomberg L.P. All rights reserved. Reprinted with permission.