This article originally appeared in the Culture section of Bloomberg News on February 29, 2008.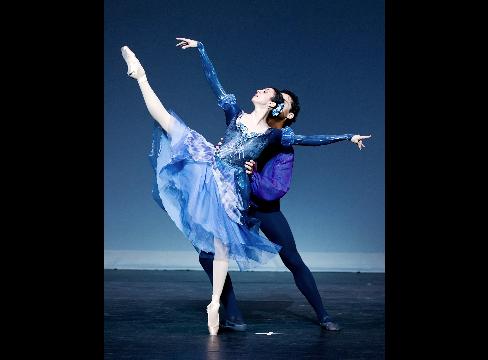 Nina Ananiashvili and Vasil Akhmeteli perform in Alexei Ratmansky's "Bizet Variations" at a dress rehearsal at the Brooklyn Academy of Music (BAM) Howard Gilman Opera House in the Brooklyn borough of New York on Feb. 26, 2008. Performances by the State Ballet of Georgia will continue at the BAM through March 2. Photographer: Jack Vartoogian/FrontRowPhotos/BAM via Bloomberg News
Feb. 29 (Bloomberg) — The State Ballet of Georgia, on the New York leg of a U.S. tour, presents finely trained bodies and a lesson in how scrupulous correctness squelches the lushness and risk needed for top-notch dancing.
The delightful moments of Wednesday night's performance stemmed almost entirely from the artistic director, Nina Ananiashvili. In a mostly pallid rendering of George Balanchine's "Chaconne," she stood out in demonstrating that clarity and expression can work together.
No doubt the company is showing itself in major venues too soon. Fresh from a stint in Los Angeles, it is currently at the Brooklyn Academy of Music through March 2 and then heads for Chicago. It would probably sell few tickets without the incomparable Ananiashvili in starring roles.
The rest of the company isn't without merit. Since Georgia's president, Mikhail Saakashvili, invited the ballerina to run it in 2004, she has brought new vigor — in both technique and repertory — to a troupe that had been languishing.
After "Chaconne," the company did Balanchine's "Duo Concertant." The performance still suffered a little from letter-of-the-law adherence to the choreography, but it received some robust grace from its two dancers, Nino Gogua and, especially, Lasha Khozashvili.
"Bizet Variations," commissioned from Alexei Ratmansky, artistic director of the Bolshoi Ballet, is merely a bagatelle, but it's a lovely one. As a choreographer, Ratmansky is like a friend whose conversation is always interesting, invariably filled with insights into human relationships.
Three Couples
Set to the composer's "Chromatic Variations," the piece is formally a sextet for three couples. Actually, it's a vehicle for Ananiashvili, meant to show her as the most delightful woman in the world, a part she plays here to perfection.
Without challenging her technique unduly, it shows her first as flirtatious, although democratically so, then utterly committed to her main partner, Vasil Akhmeteli. Throughout, she grows increasingly sweet, tender and charming, like a rose coming into bloom. The dance even gives her a moment of plangent secret sorrow, as if to cut any tendency toward the saccharine or, perhaps, to make her seem more real.
"Sagalobeli," by Yuri Possokhov, a Bolshoi alumnus now the San Francisco Ballet's resident choreographer, provided the obligatory send-'em-home-happy closer. It's set to traditional Georgian folk music, delivered live and wonderfully by an ensemble clad in black and silver uniforms worthy of grand officials in long-ago and faraway lands.
The choreography wasn't anywhere near so appealing. It attempts to combine ballet basics with supposedly ethnic moves. The men gave the material assigned to them a rough-hewn relish; the women, a sultry grace.
Few Stars
The piece went on and on, revealing that even the most competent dancers in the troupe don't include more than one or two nascent stars and that too many of the performers lack the sculptural dimension so necessary to their calling. Ananiashvili no doubt serves as a superb role model for them, but no one comes close to matching her talents. International recognition for the company looks to be at least a decade away.
Ananiashvili is probably nearing the end of her performing career. She was born in 1963. Like Balanchine, she is a native of Georgia, which won its independence from the former Soviet Union in 1991. Trained at the academy of Moscow's Bolshoi Ballet, she subsequently became a revered principal dancer with the company and a guest star worldwide.
Exquisitely proportioned, with a soulful face, technically pure and musically sensitive, Ananiashvili invariably infuses each role she plays with an affecting back story. She has been unusually receptive to choreography vastly different in style from the one in which she was bred and has an almost mystical affinity for Balanchine's works. With her dancing days drawing to a close, nurturing the Georgian company may provide the best future for all concerned.
The State Ballet of Georgia is at the BAM Howard Gilman Opera House, 30 Lafayette Ave., Brooklyn, through March 2. Information: +1-718-636-4100; http://www.bam.org.

© 2008 Bloomberg L.P. All rights reserved. Reprinted with permission.