This article originally appeared in the Culture section of Bloomberg News on November 16, 2007.
Nov. 16 (Bloomberg) — Nine casually dressed women move as a unit to Brian Eno's "Neroli," which hovers on the edge of silence. Their dance is called "Humus" (Latin for "earth").
They're introspective and sensuous, hunkering down to sway torso and pelvis as if they were so many waves in the sea, or recumbent, stretching and folding their legs like languid odalisques.
This is the most congenial section of "Shalosh" ("Three"), choreographed by Ohad Naharin for his Tel Aviv- based Batsheva Dance Company. Created in 2005, the 70-minute triptych is on view at the BAM Howard Gilman Opera House through Saturday.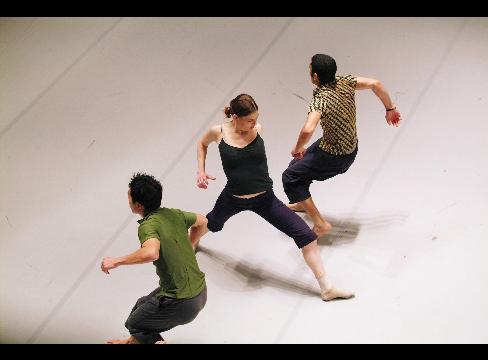 The Tel Aviv-based Batsheva Dance Company choreographed by Ohad Naharin in this undated photograph released to the media on Friday, Nov. 16, 2007. Source: BAM Howard Gilman Opera House via Bloomberg News.
The introductory segment of the piece, called "Bellus" ("Beauty"), begins with 10 dancers facing the audience with calm interest, as if they were the spectators and the audience the show. The group disperses, leaving Erez Zohar to execute a solo of peculiar moves linked not by mood or meaning but simply by the dancer's fluidity and physical power. Some of these moves are undeniably beautiful, but as if by accident; others are downright weird.
Eventually, he strides off with the busy officiousness of someone with a lot to do. His material is then given new contexts by other soloists, a couple in the shy bloom of love and the full cast we met at the outset.
The final section of the dance, cagily called "Seus" — which can mean either "this" or "not this" — sets 17 dancers jiving to a raucous mix of pop music. Its most eloquent passages are a duet for Sharon Eyal and Guy Shomroni suggesting that love hurts and another for two guys, Gavriel Spitzer and Matan David. Based on old-time social dances, it is delectably tender and funny.
Dusky Lighting
The piece finishes with a gorgeous one-liner in which the dancers, barely visible in dusky lighting, mill about grotesquely like the tame monsters in Maurice Sendak's "Where the Wild Things Are." The accompaniment is a Glenn Gould recording of Bach's "Goldberg Variations."
Co-founded by Baroness Batsheva de Rothschild and Martha Graham in 1964, the company has shifted with the times — radically since Naharin took over as artistic director in 1990. Today it features his work primarily and tours worldwide, distinguished for dancing that alternates — often in the space of seconds — delicate, subtle phrases with huge, charged moves and is unafraid of either the ostensibly ugly or silly.
Naharin emphasizes the fact that his company now trains in a method called Gaga. He developed it to rehabilitate himself after being severely incapacitated by a spinal injury. Gaga is part of an increasingly popular trend that has dancers supplementing or even discarding a highly codified technique that they've mastered for a less rigid movement language designed to free the body while making it flexible, strong, and self-aware.
Batsheva Dance Company is at the BAM Howard Gilman Opera House, 30 Lafayette Ave., Brooklyn, through Nov. 17. Information: +1-718-636-4100; http://www.bam.org.
Devoid of Spontaneity
Not every heartening start has a happy ending. The Pennsylvania Ballet, at the City Center in a rare visit to our town, was founded in 1963 by Barbara Weisberger, a protegee of George Balanchine. It benefited from a Ford Foundation sponsorship to elevate promising companies from the status of "regional," with its gloomy implications. The troupe reached its highest luster in the decade from 1973 to 1982 under the direction of Benjamin Harkarvy, when its productions of Balanchine's works were widely considered worthy alternative readings to the New York City Ballet's.
Since then, matters seem to have gone downhill. "Serenade," the Balanchine signature work that opened the five-day engagement, was given a conscientiously prepared showing devoid of both spontaneity and mystery, to say nothing of technical aplomb.
Contrived Escapades
The dancers were far more at ease in the other piece on the program, "Carmina Burana," to the melodramatic Carl Orff score about lust, spirituality and life's subjection to the wheel of fortune. A new version by the company's resident choreographer, Matthew Neenan, offers 55 minutes of contrived escapades, their gaudy, peculiar costuming thwarting any meaning the dance may have aspired to.
The Pennsylvania Ballet is at New York City Center, 131 W. 55th St., between Sixth and Seventh avenues, through Nov. 18. Information: +1-212-581-1212 or http://www.citycenter.org.
(Tobi Tobias is the New York dance critic for Bloomberg News. The opinions expressed are her own.)
© 2007 Bloomberg L.P. All rights reserved. Reprinted with permission.