This article originally appeared in the Culture section of Bloomberg News on November 2, 2007.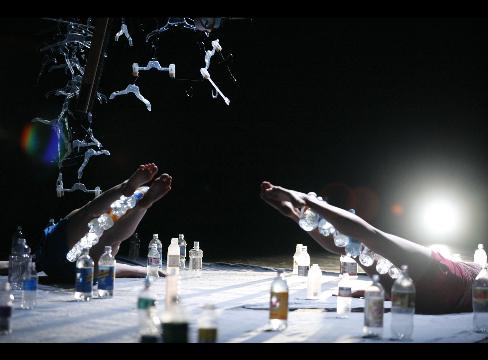 Julieta Cervantes and John Jasperse perform in "Misuse Liable to Prosecution" in this image released to the media on Thursday, Nov. 1, 2007. Photographer: Julieta Cervantes/John Jasperse Company via Bloomberg News
Nov. 2 (Bloomberg) — A few dancers you can barely see wander through a forest made from hundreds of suspended plastic coat hangers, lights boldly flickering among them like errant stars. It's not a dance moment, really, but it is a theatrical one, and one of the most beautiful and clever in John Jasperse's new "Misuse liable to prosecution." The piece and its eclectic percussive score by Zeena Parkins, mistress of the electric harp, were commissioned by the Brooklyn Academy of Music for its 25th Next Wave Festival.
As you enter the BAM Harvey Theater, where the piece will play through Saturday, Jasperse lies supine upstage, his upended legs crocheting a scarf for a giant with the thick orange extension cord familiar from construction sites. A lean, fluid man of 44 with an unassuming manner, given to making eccentric behavior look normal, he moves on to address the audience through an orange traffic cone serving as a megaphone.
Without rancor, he delivers a slew of statistics revealing how skewed the scale of monetary reward is in our society. Judge Judy makes millions more than the justices of the Supreme Court combined. He himself — a star and a veteran in the world of experimental dance, though he's too modest to say so — earns $26,000 a year as head of his company. His dancers receive $15 an hour rehearsal pay.
Milk Crates
The warning that gives the work its title is usually emblazoned on plastic milk crates that people with limited means — students and artists, for example — grab off the street, repurposing them for personal use. Indeed, every item in the piece, Jasperse declares, from decor to costumes and props, has been found, borrowed or stolen. The point of "Misuse" is to explore our culture of consumption and waste and how those who don't make much sometimes make do. Jasperse does so genially and ingeniously.
As usual, Jasperse has the dancers interact with the "stuff" of his piece, and so we get a dance for two women with dozens of plastic water bottles that they line up between their legs, letting a floor-level light gleam through them until they look like giant diamonds. Then they crunch the bottles into trash.
All five dancers join for a choral segment that involves meticulously folding well-worn jeans, then viciously whipping them about like lariats. After much playful manipulation, a limp bean-bag chair becomes a shroud for Jasperse's head and an inflatable mattress collapses over a female dancer's, so both end up groping their way through the hanger forest, bare-legged and blind.
Their Bodies, Themselves
Even more interesting are passages in which the dancers, in pairs, simply use the resources of their own bodies, extending themselves beyond the borders of formal technique. Jasperse credits his dancers' contributions to the choreography, and a fascinating double duet has an air of improvisation. The performers tangle with each other as if to discover new uses for their limbs or the ways in which a pair of bodies can interact without romance to nudge them along. The movement begins gently, with an air of exploration, then grows wilder and more powerful until the quartet crawls offstage, ungainly but game to the last.
Parkins's score, live and pre-recorded, is all over the map. Orphan objects (broken typewriters, tea kettles and the like) are used to evoke cars, trains, birds or eerie whisperers. We are assured, too, that the D.J.'d material comes from vinyl records played on found turntables.
Through Nov. 3 at the BAM Harvey Theater, Fulton Street at Ashland Place in Brooklyn. Information: +1-718-636-4100; http://www.bam.org.
© 2007 Bloomberg L.P. All rights reserved. Reprinted with permission.