This article originally appeared in the Culture section of Bloomberg News on November 29, 2007.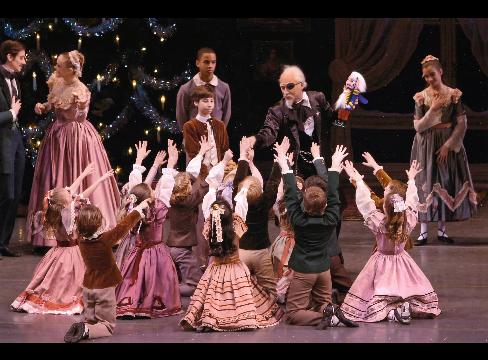 Robert La Fosse, standing second from the right, as Herr Drosselmeier, performs in the New York City Ballet production "The Nutcracker" in New York in this undated photo. Photographer: Paul Kolnik/NYCB via Bloomberg News
Nov. 29 (Bloomberg) — A bracing tonic for the Scrooges among us is "The Nutcracker," choreographed to Tchaikovsky's captivating score by George Balanchine for the New York City Ballet.
In the course of its annual five-week run at the New York State Theater (this year, through Dec. 30), it regularly features the company's seasoned stars as well as stars-in-the making; alternating casts of some 40 Lilliputian children from the School of American Ballet, impeccably rehearsed by Garielle Whittle; and scenic wonders such as a Christmas tree that grows to a surreal height, lights flickering.
You know the story: At a decorous Christmas Eve party long ago, Godfather Drosselmeier gives Marie, the prepubescent daughter of the house, a magical nutcracker that sets in motion striking transformations and wish fulfillments. These climax in a visit to the Sugar Plum Fairy, who reigns over the Land of Sweets, with Marie escorted by the nutcracker now transmuted into the young prince of her girlish dreams.
The opening night's Sugar Plum Fairy, Maria Kowroski, mistress of adagio dancing, gave a ravishing account of the ballet's climactic duet. Her Cavalier, Charles Askegard, was secure enough to toss her into the air for a moment midway through their fish-dive maneuver that is already a tour de force: "Look, Sugar, no hands!"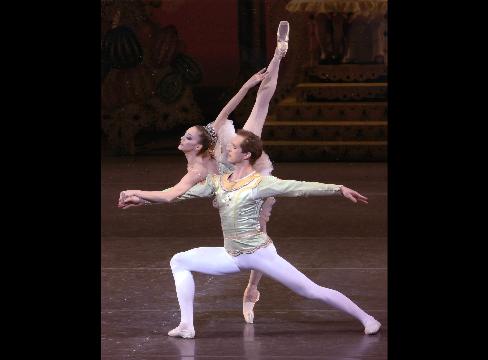 Maria Kowroski as the Sugar Plum Fairy, rear, and Charles Askegard as her Cavalier, perform in the New York City Ballet production "The Nutcracker" in New York in this undated photo. Photographer: Paul Kolnik/NYCB via Bloomberg News
More surprisingly, Kowroski was radiant and tender at her entrance, reigning over the flock of tiny angels that scoots across the stage in interweaving patterns as if on ball bearings.
Ashley Bouder, as the Dewdrop leaping and whirling her way through a corps of Flowers, was even more astounding than usual in her athletic brilliance. Audiences adore her. I still have reservations about her dancing, which is two-dimensional rather than sculptural, a phenomenon that a camera could render perfectly. Live dancing demands more depth.
Nothing Tragic
I also miss the whiff of tragedy that Heather Watts once brought to this role, as if to reflect the evanescence of a dewdrop's perfection. But perhaps that is too much to ask these days when bravura technique is valued above subtler qualities.
The generation of nascent ballerinas was represented by Erica Pereira and Rachel Piskin, not long out of their student years at SAB. They seconded the remarkable young virtuoso Daniel Ulbricht in the shamelessly politically incorrect pseudo-Chinese dance, "Tea," which represents one of the treats displayed in the second act's "Land of Sweets."
Among the children in leading roles, Jonathan Alexander stood out for his spontaneous exuberance as the naughty kid brother. The all-important character role of Herr Drosselmeier lies at the other end of the age scale. Playing the enigmatic inventor and magician who makes Marie's dreams (as well as the nightmares) come true, Robert La Fosse has toned down his earlier over-the-top interpretation. Now he displays just the right blending of strangeness and fantasy.
Through Dec. 30 at the New York State Theater, Lincoln Center. Information: +1-212-870-5570; http://www.nycballet.com.
© 2007 Bloomberg L.P. All rights reserved. Reprinted with permission.