New Dances at Juilliard, Edition 2006 / Peter Jay Sharp Theater, Lincoln Center, NYC / December 14 – 17
What the Juilliard School is to music, it is to modern dance as well: an academy that attracts some of the most gifted and proficient pre-professionals in the rising generation and hones them for their careers. As part of their training, the school's artists-in-the-making give concerts that offer high-caliber performance along with the irresistible opportunity to spot tomorrow's stars.
This week, Juilliard's Dance Division offers its New Dances at Juilliard, which has become an annual event. Here's how it works: Four experienced choreographers are commissioned to create new pieces. Each of them is assigned one of the four classes in the undergraduate program and must use all of its roughly 25 members–a sizeable challenge in itself.
Lawrence Rhodes, who heads the Dance Division, says, "In the spring we have our yearly repertory concert. It gives our dancers the experience of stepping into someone else's shoes. New Dances involves them in the actual creation of the piece they're performing."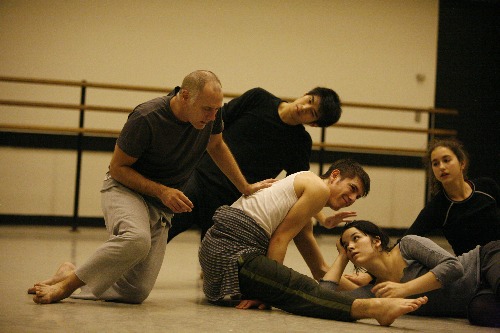 This is most evident in Doug Varone's The Constant Shift of Pulse, choreographed for the Third Year students. The dance is not simply for them, but at the same time about them. Surging energy, sensuousness, vulnerability, peer bonding, optimism operating hand in hand with doubt–Varone, a subtle and emotionally eloquent postmodernist, captures these aspects of youth without a trace of sentimentality.
Azure Barton, a Canadian choreographer whose work has snagged Mikhail Baryshnikov's interest, engages the Fourth Years in a dreamy, mysterious dance, full of eerie, disconcerting gestures. Its performers might be a sub-species of humanity whose anatomical parts aren't joined in the usual ways or a crowd of emotional cripples. Like much contemporary work, Still declines to reveal its intentions, putting its faith in the power of suggestion.
The most frankly balletic of the four pieces is Matthew Neenan's Otono, for the Second Years. The dancers move with facility, grace, and a playful air, as if recalling their not-so-long-ago childhood when life was simpler. Being a well-made dance–Juilliard dances are inevitably well-made; the academy is not the place to look for the cutting edge–the idyll is balanced by hints of impending darkness.
David Parker's About 15 Minutes has the First Years blithely mapping out rapid, complex rhythms that suggest playground games. It's clever, light, occasionally amusing–an antidote to high art. The choreography provides its own body-percussion score, the dancers clapping their hands and slapping their thighs as they move.
The other three pieces enjoy live accompaniment of the highest caliber. That, along with the use of the most enviable small theater in town, is one of the perks of being part of the Juilliard community.
Photo credit: Rosalie O'Connor: Doug Varone, working with Juilliard dancers on The Constant Shift of Pulse
© 2006 Tobi Tobias