New York City Ballet: George Balanchine's The Nutcracker / New York State Theater, Lincoln Center, NYC / November 24 – December 30
Part of the charm of the New York City Ballet's production of George Balanchine's The Nutcracker, now in its 52nd year, is the bevy of exquisitely proportioned, preternaturally accomplished children in the cast. Most of these youngsters start their Nutcracker careers at eight or nine, in their second year at the company's highly selective academy, the School of American Ballet.
In the course of four winter seasons, they work their way up through the roles of diminutive well-bred guests at the nineteenth-century Christmas Eve party that opens the ballet, toy soldiers and marauding mice in the thrilling dream sequence, and the inhabitants of the Sugar Plum Fairy's kingdom — from miniature gliding angels to the just-pubescent Candy Canes who are soon to outgrow the ballet's children's roles entirely.
Rachel Piskin, however, a petite brunette of 19 who is now a very promising member of the company's corps de ballet, started at the top. At 8 ½ she was chosen to dance the role of Marie, the little girl — all wonder and spunk — who is the heroine of the story.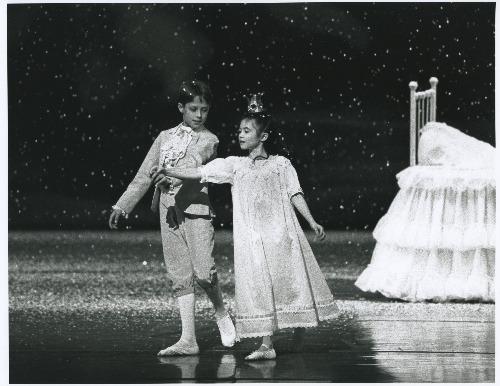 Looking back, Piskin thinks she was chosen for her size – "I was so tiny," she recalls — and her expressiveness. "I guess they could see how much I loved dancing," she says. "And performing. I loved to express myself. I was a child with a huge fantasy life."
After two years, Piskin explains, "I got too tall and too old for Marie. But I didn't mind, because I went on to the roles for bigger girls that call for more actual dancing. Marie is really mostly acting."
When the NYCB accepted Piskin as an apprentice in 2004, she began her progress through The Nutcracker's adult assignments, among them the obligatory stint for newcomers: dancing one of 16 snowflakes in the human snowstorm that climaxes the ballet's first act.
This season she's the very first Snowflake out — slicing the air with her leap. She has also accumulated a cache of small solo roles, appearing as a wind-up doll, a Spanish senorita, and an utterly un-pc Chinese girl. She's learning the Dresden-figurine role of the main Marzipan Shepherdess as well.
Given her precocious start and her rapid advancement, Piskin might be destined for the ballet's chief women's roles: the dulcet Sugar Plum Fairy or the sparkling Dewdrop, who darts and spins through the Waltz of the Flowers. She refuses to discriminate between them, saying modestly, "I think getting to dance either part would be an amazing accomplishment."
For all her reticence on the subject of her future, Piskin is quick to reply when asked what advice she might offer a little girl playing Marie today. "Enjoy it as much as you can, and remember everything," she says. "No matter if you become a dancer or do something else when you grow up, it's a moment you'll never forget."
Photo: Paul Kolnik: Rachel Piskin as Marie in the New York City Ballet's production of George Balanchine's The Nutcracker (TM)
© 2006 Tobi Tobias