Royal Danish Ballet: Bournonville Festival / Royal Theatre, Copenhagen / June 3-11, 2005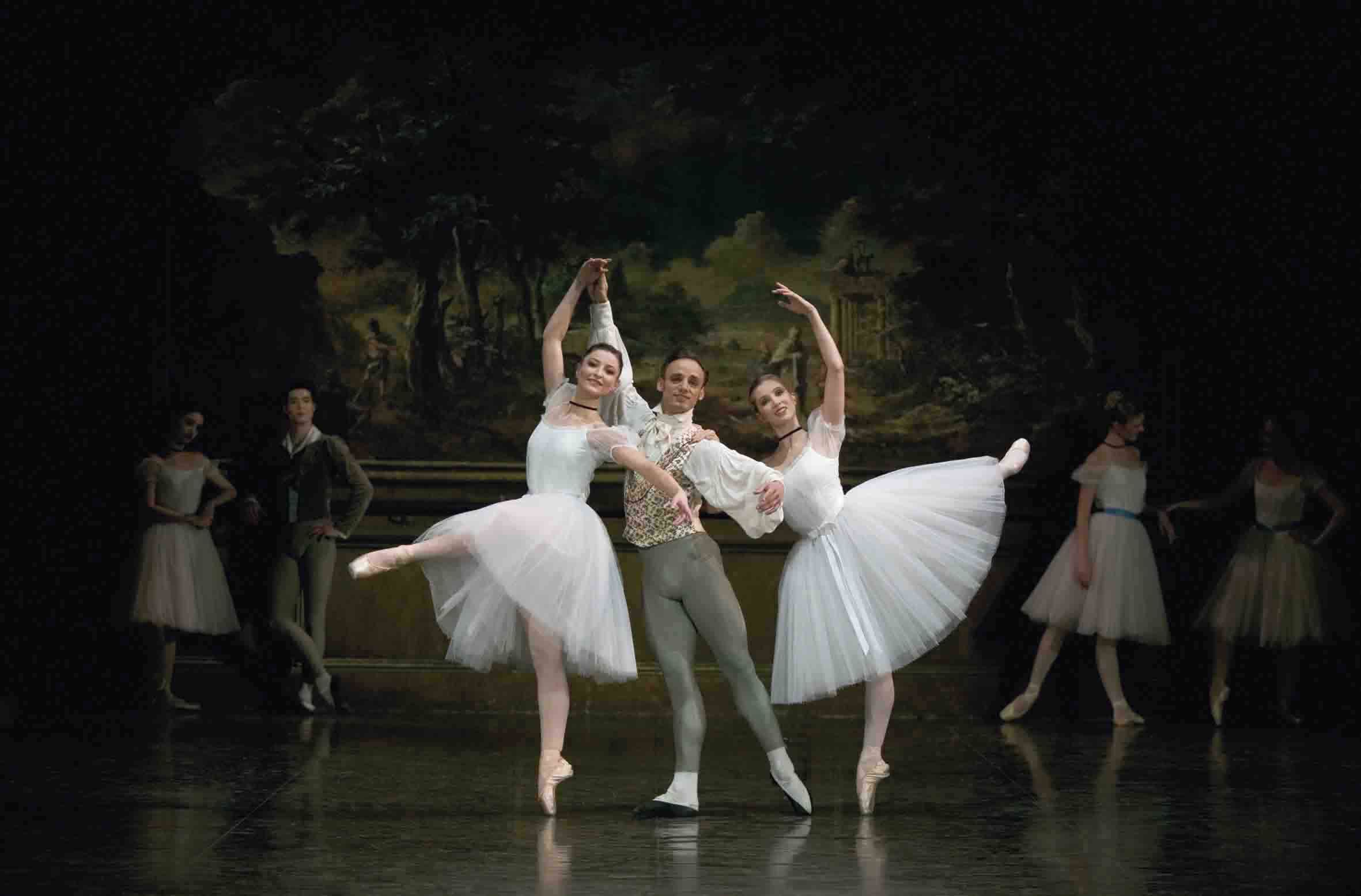 Bournonville's Konservatoriet is known and loved both in Copenhagen and internationally for its Degas-like evocation of classes in the dance academy of the Paris Opera. The young Bournonville had studied there in the 1820s, and this is his tribute—created in 1849, just after he had retired from performing—to the scene and, by extension, to the French Romantic ballet. Here, in a studio redolent with echoes of the past, ravishing—and challenging—enchaînements (some of which we meet again in the Friday Class of the Bournonville Schools) are delivered in the charming context of a lesson that involves a ballet master, a pair of sisterly (or is it, ever so sweetly, rival?) ballerinas, a decorative small ensemble, and an appealing cluster of children being apprenticed to the stage.
This atmosphere-infused section, however, was only part of Bournonville's original Konservatoriet. It was set, in two parts, into a colorful, gaily rendered story in sit-com mode indicated by the ballet's subtitle, A Marriage Proposal by Advertisement. The full ballet was restored to the RDB repertory in 1995, from memory, by Kirsten Ralov and Niels Bjørn Larsen, who had danced in it as children in the 1930s. The ebullient tale, destined to end happily, involves the Inspector of a dance academy who—without youth, good looks, intelligence, or personal charm to recommend him—seeks a wealthy wife through the personal columns and the gifted little dancing daughter of impoverished itinerant performers, who yearns to gain admittance to the heavenly world of classical dancing. As a child, Ralov played the little girl, Fanny; Larsen had only a minor part, but hoped, in the fullness of time, to play the Inspector and so studied the role closely.
In its Festival performance, the dance academy sequence was well rendered by children, ensemble, and soloists alike. It was here that I saw most clearly how the company has chosen to dance its Bournonville today. It's a contemporary take on the old style that offers some gains and some truly regrettable losses. In terms of technique, the dancing is conspicuously stronger and clearer than it was at the first Bournonville Festival in 1979; this is evident even in the children's work, with no loss of the spirited quality that distinguishes the pupils of the RDB school. The work of the adult dancers is bigger and bolder than it used to be, but increased precision and force have come at the sacrifice of some of the delicacy, buoyancy, and fluidity that once made Danish dancing so singular and delightful. And of course, what with the RDB's repertory expanding to include more and more assignments entirely alien to the Bournonville style, it was inevitable that the dancers would no longer be able to dance their Bournonville as if nothing were more natural. Still, looking at the work of Yao Wei (one of the lead women in Konservatoriet) and that of Gudrun Bojesen and Thomas Lund (just about everywhere else), you could hope that some happy reconciliation might yet be effected between the old ways and the new.
The anecdotal sections of Konservatoriet were, needless to say, dependent on the performers' mime skills. The stand-out here was Paul-Erik Hesselkilde in the role of the Inspector. As is typical of the RDB's veteran mimes, Hesselkilde takes a large measure of responsibility for building his character, working from the basics the choreographer has outlined. His Inspector is an aging, self-important, rather stupid fellow, decidedly short on human sympathy. He's rudely ungrateful to the faithful old housekeeper he'd once promised to marry and curtly dismisses poor little Fanny because she can't pay for lessons. Yet, as often happens with potential bad guys in Danish ballet, he turns out to be only foolish and, actually, rather sweet. Hesselkilde is got up to look physically unprepossessing, rather Tweedledum/Tweedledee-ish, and he has devised a complementary fumbling manner for the Inspector that belies the character's superficial bluster. The whole thing is done with a very quiet sense of humor. This performance has absolutely nothing show-offy about it. It simply grows on you until you come to sympathize with the character, who seems to have slipped out of a novel by Trollope.
At the curtain calls for Konservatoriet, the company paid onstage tribute to Hesselkilde, who was celebrating his 40 years at the Theatre—though, mind you, he's in no way ready to retire. The presentation of an outsize laurel wreath was duly accompanied by kind words, kisses and bear-hug embraces, floral and alcoholic offerings. Immediately afterward, Hesselkilde was feted backstage in typical RDB fashion, with serious, touching speeches from top management and a sardonically funny one from a colleague; still more gifts; a screened excerpt from a past triumph (as a wry, idiosyncratic Drosselmeier in The Nutcracker); and a hilarious live takeoff on another of his signature roles—the Eskimo dance from Far from Denmark. But backstage is another story.
Photo: Martin Mydtskov Rønne: Gitte Lindstrøm, Thomas Lund, and Gudrun Bojesen in August Bournonville's Konservatoriet
© 2005 Tobi Tobias