Royal Danish Ballet: Bournonville Festival / Royal Theatre, Copenhagen / June 3-11, 2005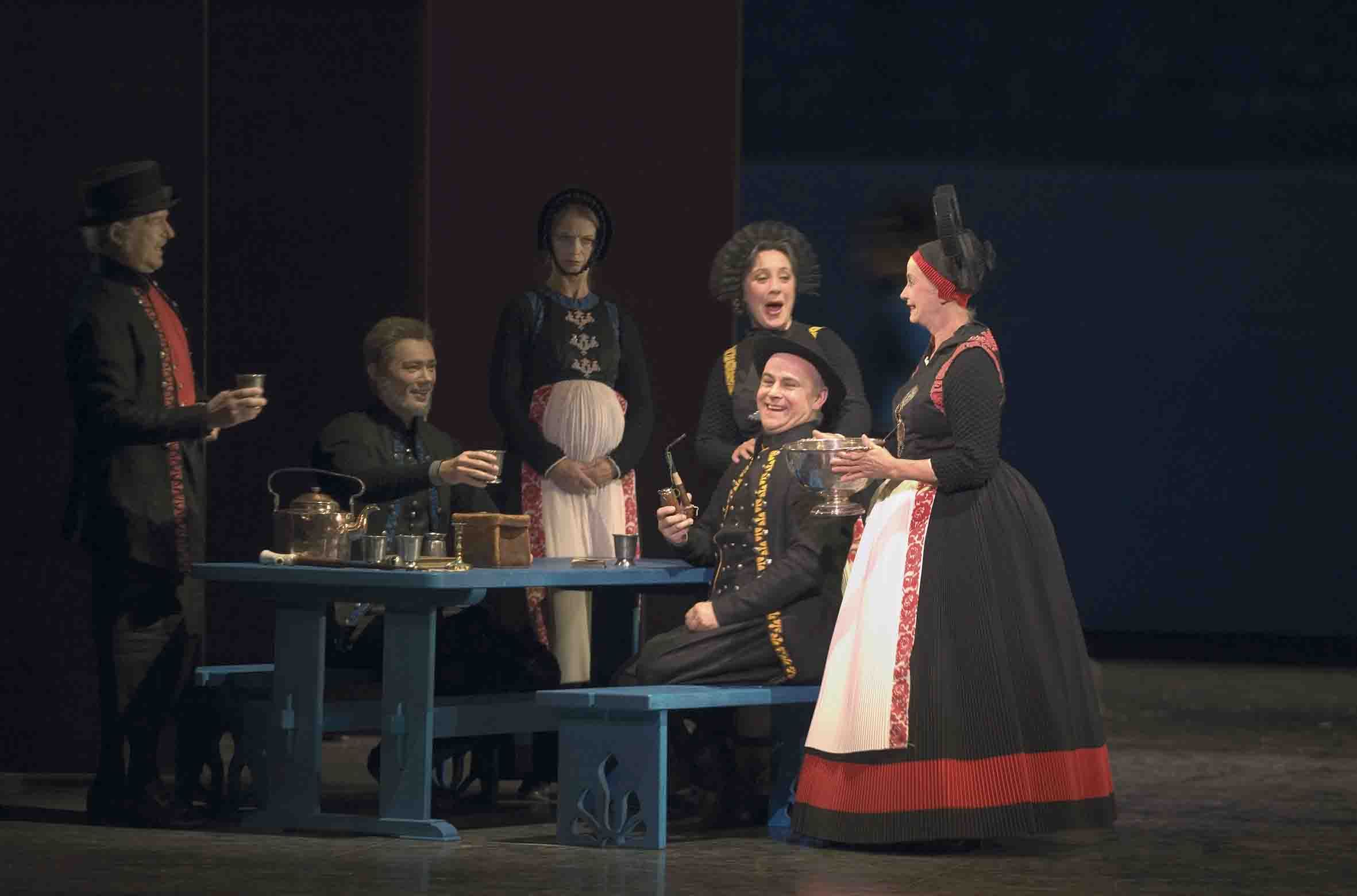 Just about everyone agrees that, among Jane Austen's novels, Pride and Prejudice is the "perfect" one, the technical dazzler, and that Emma is the most profound. But Janeites usually have a personal—idiosyncratic—favorite, and mine is Persuasion. I'd be the first to admit that it's slighter than the Big Two, but I find it uniquely touching in its account of quiet events and barely spoken feelings. I'm highly susceptible as well to its notion that one can have a second chance at happiness. Among Bournonville's ballets, The King's Volunteers on Amager holds a similar special place in my affections. At least it did.
A ballet exists fully only in the here and now. The rest is merely history and capricious memory. I'm sorry to report that the current production of King's Volunteers, the only one my little dance-avid granddaughter can see, is nowhere up to the version—staged by Hans Brenaa, with décor and costumes by Bjørn Wiinblad—that captured my heart at the first Bournonville Festival in 1979.
The one-act ballet, created in 1871, at the sunset of Bournonville's career, is based on the choreographer's nostalgic recall of the Fastelavn (Shrovetide) celebrations on the island of Amager that he witnessed as child. Something of a suburb of Copenhagen, Amager was home to a farming community that had originally emigrated from Holland and had, for several centuries, retained its Dutch dress and Dutch customs. (Today, Dutch names can still frequently be found among the area's residents, and the marvelous Amager Museum holds examples of the unique clothes and furnishings of the settlement.)
In the ballet, a party of Copenhagen townies visits a farmhouse on Amager, where, as it happens, a squad of select upper-crust soldiers has been stationed to guard the vulnerable coast against enemy bombardment. Unfolding amidst the quotidian events of the scene is the bittersweet romance of a couple in midlife—Edouard, a womanizing husband, and his sorrowful but still loving wife, Louise. (Bournonville based the character of Edouard on a real historical figure, Jean Baptiste Edouard Du Puy—versatile musician, dashing soldier, and constantly inconstant lover. He was known, with admiration and dismay, as the "Don Juan of the North.") Saddened by the incessant amorous exploits of her philandering spouse, Louise—a role for a ballerina with some history behind her—tricks him, in a masked dance, into attempting to seduce her. When they unmask, he comes to his senses and then, slowly and gravely, declares his lasting love for her. "You are the only one," he mimes, and, for the moment, both of them pretend to believe it. This interchange is ingeniously embedded in an exuberant community dance that happily mixes young and old, elegant city dwellers and salt-of-the-earth farmers, folk dancing, classical dancing, and hectic carnival pageantry. The reconciliation, which, Bournonville suggests, may or may not prove enduring, is effected at a moment when Edouard and Louise are the only two, on a stage crammed with boisterous revelers, who are standing still.

In general, the new staging, by Anne Marie Vessel Schlüter, is neither subtle nor sensitive enough. It's marred, moreover, by an addition meant to explain matters when they need no explanation—a dream sequence in which, to spell out Edouard's proclivities, he's made to dance with a quartet of anonymous beauties in pink nighties. The choreography devised for this segment is so banal as to be beyond comment.
The new décor and costumes by Karin Betz are even more unfortunate. The city girls are dressed in a medley of persimmon, hotted-up pinks, and reds blatantly hostile to the eyes, while the Amager folk, whose actual native costume for women featured lavish embroidery in glowing tones, are garbed so as to emphasize the flat, uncompromising black, red, white, and blue of the clothes' background. You'd think, from the look of things, that the community embraced stringent denial rather than reflecting life's richness.
The décor manages to be harsh and quaint at once, in the latter aspect much like a stylized picture postcard conveying a tourist's greetings from Amager. Betz goes wrong again by placing, upstage center, a huge painting of a rural landscape in summery flowering, while the community's children are seen sledding and throwing snowballs. The use of a picture—the kind you might hang on a wall, if you had the space and it weren't so inept—is in itself disturbing. Like the designer of the new, misconceived set for La Ventana, Betz has opted for indicating semi-abstractly what used to be represented realistically. Please God, this does not indicate a trend.
If a ballet fully exists only in a current staging, its life depends equally on the current interpreters of its key roles and—in the case of character parts—of its minor roles as well. The King's Volunteers cast for the Bournonville Festival came nowhere near the richness of the cast for the first Festival in 1979, which still burns bright in my memory. It featured the consumate dancer-actors Tommy Frishøi, Kirsten Simone, and Lillian Jensen—all from a genre of players that has traditionally given the RDB its distinctive luster and that nowadays seems ignored in favor of other concerns.
True, in the present production, Silja Schandorff has made a credible start on the role of Louise, even if her mime is a shade too close to classical dancing, and Peter Bo Bendixen is adequate as Edouard, though, handsome and stalwart as he is, he doesn't radiate the sexual confidence of a born womanizer. Simone, who offered a heart-rending Louise in 1979, now does a vivacious job as the grandmotherly rural hostess—all housewifely bustle and robust appetite for life. Two other company veterans, Poul-Erik Hesselkilde and Flemming Ryberg, are equally convincing in smaller roles. But despite these individual efforts, the production doesn't cohere as a story that, however slight, can gather the power to move its witnesses to tears. As a result, the inserted classical pas de trois—for dancers not involved in the story—takes on inordinate importance for the present-day audience, which responds more readily to bravura steps than it does to the deeper drama of emotional life.
Photo: Martin Mydskov Rønne: Poul-Erik Hesselkilde, Mogens Boesen, Mette Bødtcher, Ulla Frederiksen, Kenn Hauge, and Kirsten Simone in August Bournonville's The King's Volunteers on Amager
© 2005 Tobi Tobias