Martha Graham Dance Company / City Center, NYC / April 6-17, 2005
The trouble with Martha Graham is that, alive or dead, the lady can't be relied on. She is, indisputably, one of the key choreographers in the history of Western dance. The Martha Graham Dance Company's current City Center season, restricting itself almost entirely to carefully shaped productions of masterpieces like Primitive Mysteries, Appalachian Spring, and Errand Into the Maze, proves this point anew. However, more often than not, the work of the last third of Graham's long career was inflated and vague, almost to the point of self-parody, and thus hardly worth conserving in the active repertory. So the viable Graham canon is limited and, though the power of the company rests with the great old works, neither the troupe's audiences nor its dancers will accept having their experience confined solely to these pieces.
For this reason, the current directors, Terese Capucilli and Christine Dakin, commissioned their first new work for the group—from Martha Clarke. Emerging from Pilobolus in the seventies, Clarke choreographed and directed for major ballet and opera companies and created independent productions that led to her copping one of those MacArthur Awards that lets folks think of you as a genius. The Graham assignment resulted in Sueño (Dream), inspired by the Goya etchings collected as Los Caprichos (1799) and Los Desastres de la Guerra (1810-1814)—mordant depictions of the evils rampant in Spanish society and, by implication, in humanity at large.

Clarke has a fervid imagination (a quality Graham shared without letting it overwhelm her), and an insatiable appetite for the grotesque. Sueño is extravagantly picturesque. Its eleven haunted figures inhabit a very dark stage, where set and costumes are restricted to a palette ranging from black, through ash gray and silver, to a spectral white. The dancers' wildly moving shadows create menacing silhouettes on huge mottled panels placed at rakish angles, the constant unsettling fluctuation of the forms augmented by the women's loose-hanging hair and ragged skirts. In the same vein, the frenzied movement is intermittently accompanied by laughing, screaming, raucous shouting, sinister whispering, and, at one juncture, the antiphonal hand-clapping of Spanish dance.
Image upon image whirls before our eyes, depicting violence, sexual depravity, grief, despair, decay—and the near manic pleasure the participants take in their own dissolution. The populace scuttles around in the gloom, doing forbidden things or having horrific things done to them, spying gleefully on one another's nasty diversions.

All this, performed with vigor and abandon, is stunning for a few minutes. It looks like the introductory passage to a heady, menacing film—after which you'd, quite naturally, expect incident, character, and finally some semblance of story to emerge from the atmospheric vortex. In Sueño this never happens. Although a few specific incidents stand out in the general mêlée—the rape of a redhead by three men, a vicious confrontation between a matador and his human bull/slave—they are very brief, a matter of seconds. For the most part, the piece goes on for over twenty hectic minutes without rendering anything more than a Carnival in Hell ambiance. Towards the end, as if Clarke had suddenly realized she'd produced nothing of conventional dramatic substance, one man mounts a precarious towering panel, his neck wrapped in a hangman's noose. He harangues the small crowd of death-infatuated revelers below, then leaps from his perch to his "death" (flying effects by Antigravity). Clarke resurrects him after a bit, and he laughs hysterically, his hands clutching a pair of clanging bells.
Franco Piersanti's score, Riccardo Hernandez's set, Donna Zakowska's costumes, and Christopher Akerlind's lighting all contribute mightily to Clarke's intended effect. The effect, however, though initially ravishing, does not constitute a dance. It has little of the quality of Graham's landmark works—no governing passion, for one thing; no redemption, for another—and, for that matter, little relation to Goya, who never treated the morbid as if it were intoxicating décor.
The real choreographic event of the season turned out to be the revival of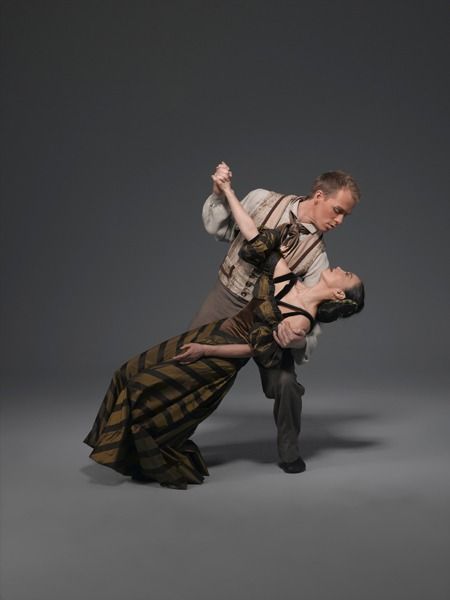 Graham's 1943 Deaths and Entrances, an evocation of the turbulent lives of the Brontë sisters, its emotional climate as roiling as that of Emily's Wuthering Heights. The piece centers on one of the sisters (originally danced by Graham herself, and whom we can take to be Emily, the one cursed by genius, Charlotte and Anne being merely immensely gifted). This figure works out her terrible conflicts and achieves some sort of ecstatic resolution in a matrix peopled by her sisters, incarnations of their three child selves, rival suitors evocatively called The Dark Beloved and The Poetic Beloved, a pair of auxiliary gentlemen, and an enigmatic collection of props. A transparent goblet, an enormous seashell (the kind that lets you hear the ocean's implacable waves in the cleft formed by its swollen pink labial folds), and a pair of phallus-like chess pieces are manipulated by the dancers as if they, at least, knew exactly what the objects signified.
The dance has been re-costumed by Oscar de la Renta, and the gowns for the women are ravishing. They provide just enough period reference to make them probable and a huge dose of svelte glamour that connects them to the present day. Their palette—cinnamon, red violet, and black-striped bronze—gives off a sullen glow and makes an erotic object of the dancers' skin, astutely bared at the neckline and shoulders. Referencing mid-nineteenth century dress, the construction is thick and elaborate at the pelvis, while the skirts trail behind just a little, surging and swirling as the women's rapacious extensions and tormented swiveling animate them. (The Three Remembered Children's schoolgirlish dresses are a little overwrought—Lolita-ish, if you take my meaning—but then adults cast as children almost always appear faintly obscene.)
Graham scorns plot for this piece and refuses even to make her characters and their feelings specific enough to be labeled. Yet she manages to sweep away the viewer susceptible to her methods and concerns. I, for one, having read my share of Brontë novels, could easily imagine the three sisters cooped up in the ill-fated family's home near the wild moors, writing away and dying of TB, entertaining visions of romance and passion as the grave beckoned to them.
The movement Graham invented for the piece is particularly disturbed (and disquieting). The super-energized disjunctive phrases, with single gestures set in relief, look as if desire and anguish, storming the barricades of repression, had finally unleashed their lethal force. Graham convinces you here, as she does in all her top-notch tragic works, that the only life worth living—even if it invites chaos and leads to annihilation—is an existence at emotional extremes.
Miki Orihara, who is having a splendid season—in Appalachian Spring, her Bride brings tears to your eyes—is terrific as the Emily figure. She depicts longing and loathing ferociously, yet remains infinitely delicate. In one solo passage, having lost both the Dark and the Poetic Beloved, she appears to be a fragile, priceless piece of porcelain that suddenly shatters. Then, in the next moment, as if through an immense effort of will, she composes herself, absorbs her tragedy, internalizes it, and becomes, body as well as face, a mask—invulnerable because she is unreadable.
Orihara's beautiful performances are topped only by those of Fang-Yi Sheu, the most gifted interpreter of Graham to appear in decades. Sheu shares with Orihara the ability to create a character through an intimate involvement with the persona and the situation and, at the same time, to portray that figure objectively. No mean feat, this; it's like using Method and Classical acting techniques simultaneously. Her dancing per se offers dozens of things to admire. Her small willowy body seems infinitely fine-boned and malleable, yet her strength is steely and her projection intense. Details? In Errand Into the Maze, you watch, fascinated, as she enters the metaphorical labyrinth, her feet, like some feral creature's, pacing out the path traced by an undulating rope laid along the floor. The body seems to float, almost formless, above these precise, stalking feet, as if in a trance. In Cave of the Heart, she gives her Medea hands that work like prehensile claws and a torso and pelvis overtaken—spontaneously, it would seem—by spasms that spell out jealous rage. But it's the overall effect that's most astonishing. Sheu makes you feel that there's nothing learned or calculated about what she's doing on stage. It's as if the dance is inhabiting her, making her its vehicle—as if she had relinquished herself to Graham's imagination. If you can get yourself into the neighborhood of the City Center, go see her. Right now. This sort of dancing is rare, and it doesn't last forever.
Photo: John Deane: Miki Orihara and Tadej Brdnik in Martha Graham's Deaths and Entrances
© 2005 Tobi Tobias