Tanztheater Wuppertal Pina Bausch / BAM Howard Gilman Opera House, NYC / November 16-21, 2004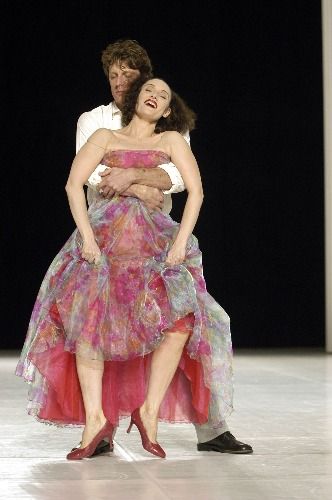 I'm having a lot of trouble with Pina Bausch's work these days. As just about everyone has noted, the German choreographer whose dark and dirty dance-theater extravaganzas were once hailed as marvelously radical, has, in the last decade, been producing pieces that are gentler, tamer, ostensibly more mellow. In the productions with which she made her name in the States in the 1980s, Bausch took the position of a plaintive, damaged witness to a numbingly reiterative existence in which individuals shuffled between melancholy isolation and hostile matings. Gradually, however, she has turned into a proselyter for the possibility, at least, of pleasure, even romantic love. Bausch Lite, folks are calling the present mode.
I found most of the early work loathsome—hardly dancing, conceptually sophomoric, self-indulgent, and dull—but in retrospect I prefer it to Bausch's mature-phase tactics. When I think back, the early, tediously unpleasant stuff seems to me at least sincere—Authentic Bausch. In the latest work to hit BAM, the 2002 Für die Kinder von gestern, heute und Morgen (For the Children of Yesterday, Today, and Tomorrow), some of the old devices—mean and heavily ironic—appear, but mostly as tics, automatic throwbacks to earlier procedures, rather than events that register with the striking vehemence of a mood or idea that goes straight from impulse to metaphor.
An interesting symptom of Bausch's evolution is the minimizing of the grunge element. In the course of the pieces that made her an art-world celebrity, Bausch could be counted on to produce a filthy, intentionally disgusting stage floor. Dirt, liquids, crazily mistreated food, crushed blossoms—you name it—were routinely smeared, splashed, or strewn on the dancing ground and subsequently massaged into it by treading, flailing, falling bodies. The effect resembled the mess a child makes naturally (or in fits of gleeful misbehavior) with its food or excrement. And of course it referred to the fallout from sex.
Now the housekeeping is immaculate. Even the small puddles of water or the few drifting petals that happen to sully to the pristine white floor in the course of For the Children are neatly picked up or tidily wiped away. Similarly: Bausch's people originally appeared in garments scavenged from thrift shops—ill-fitting and evocatively downscale castoffs, just right for the savaging they'd get as the action progressed. Now the performers have a costumer, Marion Cito, and the women's gowns are ravishing. (Each lady sports several changes.) In the Bad Old Days, makeup was largely Hallowe'en Garish and often put to lethal purpose (a guy, say, using lipstick to paint graffiti on the naked back of his female victim). Today, the women are as cosmetically beautified as mannequins readied for a Vogue shoot. Female armpits and legs that went defiantly unshaven are now smooth, and their owners have gone to the trouble, it looks like, to extend their foundation from face and neck to arms and upper torso like a pack of conscientious ballerinas suiting up to play Odette, Queen of the Swans.
Like all of Bausch's pieces, For the Children proceeds by increments—over nearly three hours. Vignette follows vignette; structure is loose; meaning—even message–remain vague. Some segments, most of them sappy—the full cast pretending to be butterflies or building sand castles—may refer to the dance's cryptic title, which, I assume with regret, refers to adults' contacting their Inner Child. Several disjunctive solos depicting a kind of psychic falling apart provide the show's most eloquent moments. The most bizarre passages include a group of drop-dead glamorous women in black raking parts into their hair with their stiletto-heeled pumps; nasty uses of fire to mutilate clothing, flesh, and, pointedly, a book; plus the customary Bauschian variations on the theme of humiliating courtships and bad sex.
A good part of the show's second half is devoted to free-for-all dancing—high-octane displays of physical bravado that owe much to break dancing, skate boarding, and the wild improvisatory action that occurs in clubs where the refreshments are mind-bending. The idea seems to be that physical ecstasy equates with psychic triumph or release. Twyla Tharp used this ploy in the "Golden Section" of The Catherine Wheel; the finale of Harald Lander's Études can be thought of as an early prototype. Bausch's grand slam finale doesn't earn what it's aiming for, though. In no way is it the logical outcome of the events preceding it; it appears to be tacked on, in desperation. Neither can it lay claim to any intrinsic choreographic merit. It looks like raw improvisation, edited only to avoid collisions.

Despite the shift in emphasis in Bausch's work from acting to dancing, most of the fifteen technically accomplished members of the cast register as distinct personalities. Ditta Miranda Jasjfi, childlike in appearance, is remarkable in her pathos and stubborn resilience, while two veterans—Nazareth Panadero and Dominique Mercy—recall the peculiar, unique force of the old-school Bausch performers. Panadero, with her gravelly voice, her blithe, firm stride, and her vivid self-projection, is primarily neither dancer nor actor but sheer personality. Though she skirts the edge of self-parody, audiences still adore her appetite for life, her nerve, her way with a blood-red lipstick. Mercy is her opposite—mild-mannered and physically unassuming. He makes the most of that recessive quality, operating like an anonymous man in the street, wrapped in a thoughtful, slightly troubled, inner-directed air. Invariably, he's cast as a person to whom things happen, not one who initiates events. His secret ace? His tremendous dignity; it pervades everything he does. Mercy's best moment in For the Children—more telling even than his pair of quietly riveting man-at-the-end-of-his-rope solos—finds him clad in nothing but a supersized tutu; instead of a fig leaf, there's this huge cloud of chiffon fluff. He crosses the stage in this absurd outfit, his manner entirely uninflected, wielding one of those French galvanized-tin watering cans, as if to sprinkle the dance floor, as the youngest "rat" of the Paris Opera did, to prevent skidding accidents, in a time immortalized by Degas. Not an iota of Trockadero-style comedy intrudes into this strange small escapade; Mercy makes it all grave beauty.
Photo: Stephanie Berger: Nazareth Panadero with Pascal Merighi in Pina Bausch's Für die Kinder von gestern, heute und Morgen
© 2004 Tobi Tobias