Houston artist Wayne Gilbert makes paintings out of cremated human remains.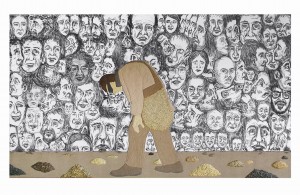 Most people who have observed his work wonder first where he obtained the material, which he mixes into nearly-colorless resin before applying with a  palette knife to stretched canvas. The recent summer day we spoke in his vast home and studio, Gilbert told me that he had just come from the grocery store, and in the parking lot an acquaintance had offered his mother's ashes for a future painting. Those in his circle have been generous at times. One of Gilbert's early paintings is titled 8 of My Friends, triangular canvas with increasingly longer even-width strips of carefully organized ashes.
For the most part, however, Gilbert says the cremated human remains he uses have been left behind at funeral homes, where they stay for a required period before funeral directors are at their own discretion as to what should be done with them. The notion that many of the "persons" appearing in these paintings were abandoned shortly after death only adds to the haunting metaphors in the finished pieces.
The ashes are hardly mono-chromatic. Some of them are a soothing beige, others appear in gradations of yellow ochre. Some are even, as Dylan Thomas would say, "starless and Bible black," suggesting a range of techniques or perhaps insistencies used when incinerating a corpse.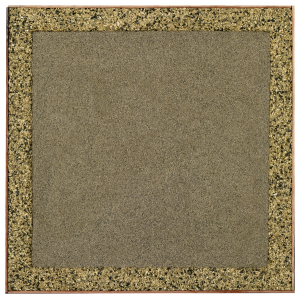 For me this work provokes strong emotions and troublesome personal pre-occupations, though I am nonetheless completely taken with it. When my brother died suddenly at age 45 and was later cremated, for several months his ashes stayed quietly in an industrial thick tubular metal urn on my mother's living-room oak sideboard. The contrast between those two materials was ironic yet comforting, in sharp contrast to my brother's turbulent life.  And strangely, the urn reminded me of those hard-working spinning pneumatic tubes at my local drive-in bank. Several months later, we buried my brother's cremains in a cemetery plot. It is impossible for me to think of them as pigment for a painting, as deeply impressed as I am with the care and respect Gilbert has towards his "subjects," for lack of a better word. Upon deeper inspection, it appears that the themes are far beyond the lives of the particular deceased.
It is a mistake to think of these paintings as mere elegies. In 2004, People Magazine ran a feature on Gilbert. Following that story he received calls from around the world from people who wanted him to make a memorial painting from a relative's remains. Gilbert stood to profit. Many of the callers told him, "Money is no object." But he turned every one of them down, saying plainly that he doesn't make "mortuary art." Rather, he told inquirers that their loved ones could become part of what he calls his "universal family." The back of each and every canvas Gilbert has created shows the names of the deceased and the location of their remains. He never blends their ashes on a canvas, though he said that one day he might explore the idea of marriage with the combined cremains of a couple. So far, he has not diverged from his original strategy.
If it is not mortuary art, then what exactly is it? Gilbert says that his work with human cremains provokes a new way of thinking about the "priceless" dimension of art. He knows it is off-putting, yet he persists. "As long as I've been painting," he said with irony, "I've never had a museum invite me to display one of these, and I've never been invited to be in a show." Every exhibition has been initiated through his own means. When the paintings have been displayed with the work of other artists, Gilbert says that people browse the gallery looking with equal attention, until they learn about his materials. "There's something that takes them back for a second look," he explained. "Whatever that is, that's what the paintings are about."