I had never seen Jack Ferver dance, but I remembered him as Jimmy Tickles in Strangers With Candy, still my favorite program ever aired on Comedy Central, when he appeared last week in Texas. Well-known in New York, his works with titles such as Death is Certain, Rumble Ghost, and When We Were Young and Filled with Fear have caused a considerable buzz in contemporary dance circles.
We were extremely lucky in Houston to have the world premiere of his collaboration with artist Marc Swanson, Two Alike, presented by DiverseWorks Art Space together with the Contemporary Arts Museum Houston. It is a significant work and the most intriguing dance piece I have seen here since DiverseWorks presented Yasuko Yokoshi's Tyler, Tyler last year around this time.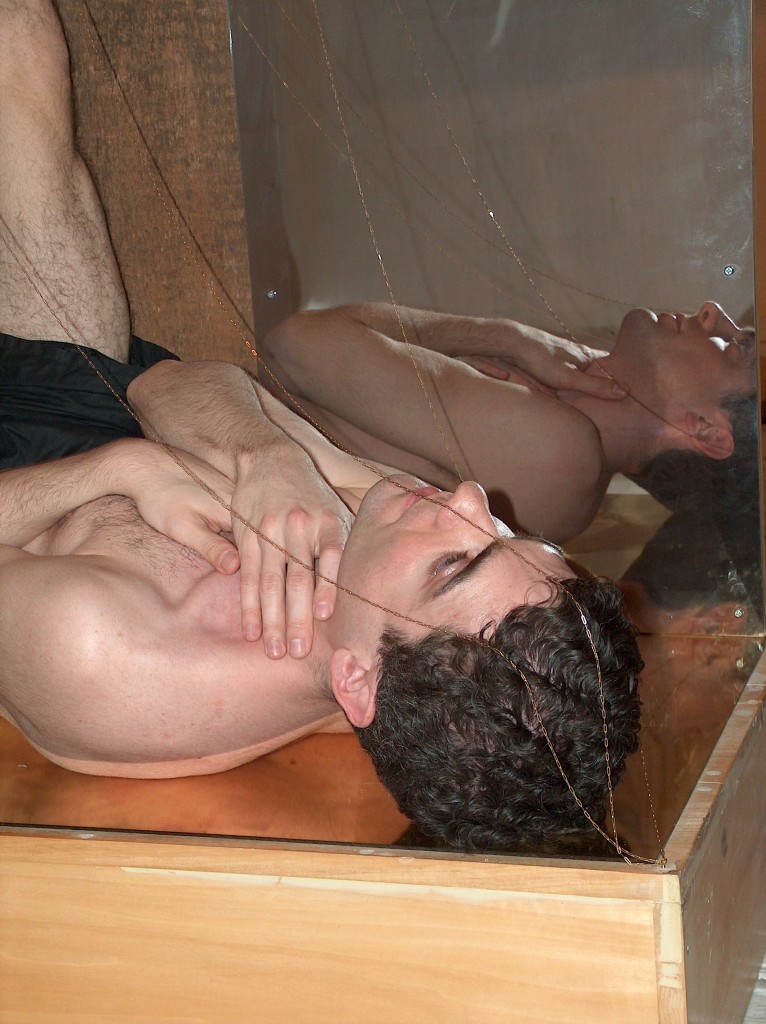 The more I continue with criticism, the less I am interested in work that exercises reason, sound judgment, or good sense. Rationality bores me. I seek out the things that defy my own understanding, the ones that don't make any sense. The more I write, the more I realize what I don't know. This conundrum is somehow satisfying, at least in the long run. From day to day, it is the welcome frustration that makes me want to write.  
Ferver and Swanson's Two Alike appeared to be the result of a rational methodology, especially when the artists discussed the piece in the DiverseWorks Art Space lobby on opening night. They are well-spoken, articulate men. Ferver explained how he spent endless hours alone in the studio refining his material, how visits from Swanson helped him solve certain artistic problems, how Joshua Lubin-Levy's dramaturgy provided further clarification. In the end, however, it is a mysterious, beautiful, angry and violent work with perplexing sculptural sets by Swanson and a murky sound-scape by Roarke Menzies.
I must acknowledge that Ferver's work upsets my subconscious desire for rationality. There is no way for me to contextualize Two Alike within his own oeuvre, since I've never seen him dance before. As the performance unfolded, though, I made some mental comparisons to other categories that could contain it: queer performance, the New York contemporary dance scene, dances in which the performers speak, esoteric "alternative" dances observed by a small audience, etc. Soloists are rare in contemporary dance, another factor that makes Ferver stand apart with this piece.
Failure is an explicit theme from the very first moments that the central "character" in Two Alike announces hesitantly, "You're a fail… You're…"
Ferver is on the floor, facing upstage into a wall of mirrors that reflects the audience as well as himself, his arm waving back and forth in a nervous tic. He says, "I wonder if I'm having a heart attack." He runs in place, moving along a strict trajectory. Later, he offers an endlessly repeated phrase of traveling pas de ballonnés on the diagonal that could come directly from any one of August Bournonville's 19th century ballets. It's a radical shift in style.  Here, the phrase is more a kind of slavery, and with each repetition, Ferver's facial expression suggests overwhelming suffering. The slavery of repetition was a prominent strategy in Pina Bausch's work. Here it is even more remarkable in the intimate setting, where there is no escape for the viewer. The mirrors amplify the event.
Further along, Ferver tries to climb into the mirror, grinds against it. It is certainly a reference to queer history and modernism, having been one of the most archetypal scenes in Jean Cocteau's 1930 classic film Le Sang d'un poète. Ferver's handprints and body oils smear on to the mirror, leaving a ghostly twin that becomes part of the scenery and remains for the rest of the show.   
Animal life is another theme. "What do rabbits eat? What do sharks eat? What do cats eat?" he asks, to nobody in particular. The movement is nearly mundane, as if Ferver is warming up for something more portentous, until one notices that he has invested his movement and gestures with palpable energy. It's as if it's his last dance, his farewell performance, even his suicide note. Menzies' sound-score becomes more rhythmic, suggesting machinery.
He wears a funny costume, a sort of splash-dyed grey and black sun-suit with an athletic neckline. It makes him look like a little kid on the beach in a 1950s postcard. It could also be seen as a parody of the traditional modern dance garb of the 1970s: dyed cotton, anti-theatrical and intended for comfort. "I'm a little boy who is afraid," he admits. Taken together, the costume and the phrase increase his vulnerability.
Later, he dances with Swanson's stained white rag quilt, saying,
"People are so stupid
People are animals
People are worse than animals."
He takes minutes to descend from a standing position, legs crossed, to a cross-legged seated position, but with no obvious transition in between. As strange as this sounds, it is a remarkable climax in the dance, the point where everything comes together and one senses the crushing dismay of the character. 
It seems most often that our minds are naturally migratory. When we are at a restaurant and half-way through our entrée, we're thinking about the possible desserts. During a difficult day at work, we think longingly of a vacation. Once there, however, we think about how good we'll feel when we return home. At even the most brilliant performance of a Mahler symphony, for example, there is usually a point where I feel ready to leave, and I experience a fleeting moment of satisfaction when the performance ends.
One of the most intriguing phenomena in Two Alike is that I never became restless, and was able to remain in each precious, present moment of Ferver's mind and body. The piece seemed to end too abruptly, and he left the audience wanting more, which is always the sign of a skilled performer.