It was early December 1957, only a few days after the legendary Maria Callas made her Dallas debut. TIME magazine reported, "As of today, Dallas is on the map as an opera town along with New York, San Francisco and Chicago." 
I wonder, though, if today any of those cities could hold a candle to what's going on here in northern Texas. I'm fully aware of the audacity of that statement, and I know what you're thinking. The best American opera house is in… Dallas?
The karmic consequences of Callas' significant affiliation with Dallas Opera, little more than half a century after her first visit, are profound. Dallas appears to be bursting with money for performing arts and filled with enthusiastic patrons and audiences. It's a kind of god-realm for opera, and by now much more than just a mere stop on "the map." The Margot and Bill Winspear Opera House at the sparkling new AT&T Performing Arts Center is nearly overwhelming, exceedingly sophisticated, without doubt the most comfortable setting in which I've witnessed opera in the entire United States. The building looks as if Frank Lloyd Wright's Guggenheim Museum has been lacquered red, and then contained within a grey titanium cage. It is soothing and exhilarating at the same time. Dallas Symphony has its own hall, next door over.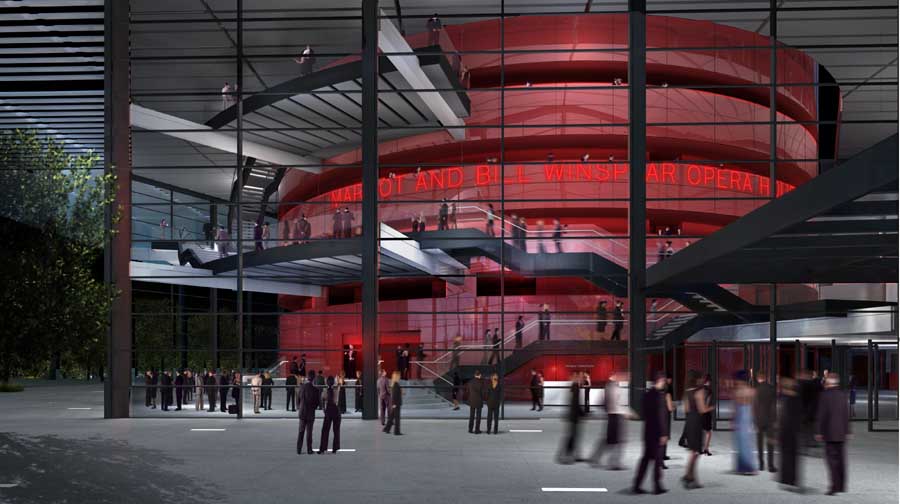 Saturday night, I sat through the celebrated and nearly four-hour-long Tarkovsky production of Boris Godunov (realized by Stephen Lawless), most of it spent on the edge of my newly-upholstered seat. The night before, Jake Heggie had premiered his song cycle, A Question of Light,with text by Gene Scheer, and sung beautifully by sexy baritone Nathan Gunn. Sunday afternoon, Paolo Gavanelli gave a definitive performance of Rigoletto, inspired from start to finish. It's hard to argue with such a stellar weekend, and the opera house was only one part of my exploration of the Dallas Arts District, during a sojourn that included restaurants, numerous galleries, shops and churches, all within walking distance of my hotel.
I've argued in this column that Texas is more than just an arts "destination." The Dallas arts district is further evidence of my conviction. Of course, I encourage all arts-loving tourists to head to Dallas, paradox aside. Hotels are relatively inexpensive in this friendly city and fine restaurants are plentiful (I would recommend Tom Colicchio's Craft-Dallas, in particular). I stayed at the upscale Magnolia  for only $159 per night, not bad when compared to my last visit to Manhattan.
I speculate that more and more people will move to Dallas as a result of this brilliant arts district. If I had a talented daughter, for example, I would want her to attend Booker T. Washington School for the Performing and Visual Arts, which is right next to the opera house and which enjoys, at the least,  a beautiful physical setting. It could even help her job prospects one day. On Sunday, graduate Quincy Roberts made his Dallas Opera debut as Count Ceprano in Rigoletto, and he was stellar. So, Dallas Opera isn't just importing foreign singers but cultivating the Texans as well.
Back in  Houston, I raved about the Dallas scene to a friend who seemed sceptical. "It sounds like they are trying to out-do us again," she said with mixture of indifference and contempt. The comment was amusing, perhaps because something I love in Texas is the artistic rivalry. I find this thrilling, actually, an energy that seems lacking elsewhere. As my weekend in Dallas progressed, I couldn't help making mental comparisons. And in terms of venue, Dallas has certainly exceeded Houston, at least when it comes to opera. 
Some context here  is necessary. The Wortham Theater Center in Houston, where Houston Grand Opera performs and which has a decidedly late 1980s feel, is still far superior to any opera venue in Boston, where I lived for 24 years.  And Dalllas is going to be a pretty tough place to beat for years to come. It makes even Lincoln Center look faded. The little details are important: convenient and inexpensive parking below the theater, a spacious lobby and grounds, decent inexpensive food and cocktails, enough room in each aisle to get to your seat, etc.
Houston Grand Opera generally offers more productions in its season, eight this year in contrast to Dallas Opera's five. HGO has some admirable  initiatives, such as Song of Houston, described as "a series of new operas that celebrate Houston as a meeting place for Eastern and Western cultures," and Out at the Opera, which "connects members and friends of Houston's GLBT community, who create a direct and tangible link to Houston Grand Opera and each other through uniquely fabulous activities," according to the company's website.  As regards the latter, I have to admit that I find the idea of an outreach program to bring more gays into an opera house ironic, since that was practically our place of worship back in the 1970s and 80s, but bravo to Houston for getting us away from Bravo TV and back into the theater.  Both companies have brilliant choruses, evidenced in particular this year at Houston's Peter Grimes and at Dallas Opera's Boris.
A very recent press release announced The Dallas Opera Chamber Opera Series , beginning in 2012 with Peter Maxwell Davies' The Lighthouse, and including the remark  that, "No other American opera company is currently committed to producing a separate chamber opera series." Take that, HGO! To make it even more remarkable, Nicole Paiement will conduct. It's just the second time a woman has taken the podium in TDO's 54-years. Sarah Caldwell conducted Ambroise Thomas' Mignon there in 1974. Come to think of it, the last time I saw a woman conduct an opera was in Boston, and it was Caldwell. And now I'm going to wonder when HGO will next invite a woman to its podium. [UPDATE: See comments from Brian Mitchell below. HGO prevails in this regard, with a trackrecord of four female conductors.]
A woman started this entire rumination, anyway. I imagine that when Callas visited here in the late 1950s, the excitement helped a generation of wealthy patrons realize they could make something precious in their own city. Five decades later, one sees the stunning results of that aspiration. The question remains as to whether or not this is happening somehow in other American cities, and whether or not anyone even wants it to happen.