Before moving to Houston, "Sound and Vision" suggested to me David Bowie's flashy 1990 tour, the name taken from one of my favorite tracks on his legendary Low. But now the phrase reminds me more of Houston Symphony, with its ongoing "Sound Plus Vision" series.
During the 24 years that I lived in Boston, I don't recall ever seeing visual projections at Symphony Hall. I suppose it would have been unthinkable to that conservative crowd, comfortably frowning in those hard leather seats. Houston Symphony made a big splash last year with The Planets – An HD Odyssey, just before I moved to town, and I was curious but nonetheless cautious. A concert hall is still nearly sacred territory for me, never to be confused with the IMAX arena. If I was going to look at something while listening, it would more likely be a practice score. Now that I'm going regularly to Houston Symphony, however,  it was inevitable that I would find myself at a "Sound Plus Vision" concert. The experience on Saturday night was more than favorable, at times even exhilarating, and in supremely good taste.
Perhaps it was the all-Richard Strauss program, perfect in length and arranged to give the listener just the right amount of variety. Up until now, I've thought of conductor Hans Graf as confident but sedate, as if he's always holding back a bit. Within the first minute of his rousing Don Juan, Opus 20, however, it was evident that his mood was different that night. He was inspired in a non-intellectual way, truly passionate about this particular score, which it seems he knows like the back of his sweeping hand.
His enthusiasm carried through to the players, who turned that brilliant tone poem into a roller-coaster of sex, death and transfiguration. Oh wait, that's Opus 24, isn't it? No transfiguration yet, but Don Juan is still 18 minutes of euphoria, disguised as one long harmonic downbeat. Oh, how those French horns gleamed like the Rhine-gold! Graf danced his way through the score. Watching him and listening, suddenly I had a strange impression. I felt that I was somehow in his body and standing in front of the orchestra.
Needless to say, the opener didn't need any supporting visuals. Neither did Erin Wall's sophisticated interpretation of the Four Last Songs. The young Canadian singer has brilliant, exacting intonation and impressive dynamic control. There's something haunting about a young woman singing these twilight melodies, the paradox adds yet another dimension to the poems. Written 60 years after the Don Juan, at first it appears that there are few common denominators with Strauss's last compositions, though both seem, in their own way, conquests.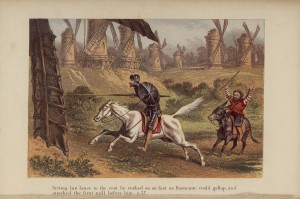 The second half of the program was devoted to Don Quixote, Opus 35, and it was here that a series of images accompanied each scene of the tone poem. When cellist Brinton Averil Smith wasn't "playing" the old Spanish nobleman or violist Wayne Brooks that of Sancho Panza (the piece is more a double-concerto), one could gaze at images projected on either side of the stage, nicely organized by a curator from The Cervantes Project of Texas A&M University Library. Even more importantly, the title and number of each variation was announced in text, helping the listener to navigate the score. I was taken with how dissonant the music is at times. Certainly Strauss knew that diatonic harmony was already dissolving after Wagner, but he seemed to need the safety-net of a narrative in order to explore those implications.