It seemed inevitable that my love of television "reality" competitions would cross with my fascination in opera, but I had no idea this would happen in Texas.
If you want to know what's going on in contemporary opera today (and I mean that literally), you need to be here in Houston. The thrilling Opera Vista Festival introduced six composers of new operas on Wednesday, and based on audience response to brief performances, two have already been eliminated. Names of the four finalists won't be revealed until tonight, and only one lucky winner will receive the prize of having his or her complete opera staged next year in Houston. I'm on the edge of my figurative seat, and can't wait for this evening's proceedings.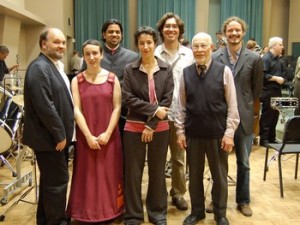 On Wednesday at University of Houston's Moores School of Music, OVF artistic director Viswa Subbaraman greeted the eager-to-vote crowd, reminding us that Opera Vista is the only "American Idol-style contemporary opera competition around." Certainly there are many such events for aspiring opera singers, but OVF is the only one I know about that focuses rather on composers.
During intermission, the elegant and well-spoken Subbaraman told me that his committee looked through more than 40 new operas before choosing this year's six finalists. The festival's presentation format is straightforward and manageable for the audience. First the composers draw lots to determine the order in which their opera scenes will be offered. Each has two minutes to introduce the work, followed by a seven-minute excerpt, and then a limited period of questions from four judges. At the end of the evening, audience members cast ballots to determine four finalists. Tonight, the composers will have to entertain inquiries from the audience as well. Tomorrow night (Saturday, March 19), the winner is announced, along with a full staging of last year's winning opera, namely Lembit Beecher's And Then I Remember.
If there is a particular trend I've noticed in nearly four decades of concert-going, it's that audiences want to interact more directly with conductors, performers, and composers. I remember when conductors began turning around to face an audience and "explain" the piece they were about to conduct, and I hated it. I also hated what I used to think were inane questions in those early post-performance Q&A sessions. "Did you choose the music first, or did you make the dance and then look for music?" seemed to be the most obvious one at a modern dance performance. Personally, I couldn't have cared less about such matters, and I disliked the idea of turning a concert hall or opera house into a kind of informal classroom. Years later, however, I accept that there has been a serious disconnect between creators, performers, and ticket-buyers, and in my current observation, the dialogue among them is starting to become more sophisticated. At Opera Vista, it's perfectly high-class, and the festival is doing an enormous amount to cultivate a savvy contemporary opera audience here in Houston.
This year's contestants hail from America, Israel, Spain, and Sweden. Stylistically, the work is wide-ranging and the composers seem to have been chosen precisely for their vast differences from the other contestants. The judges include artistic director Subbaraman, composer Daron Hagen, Irish conductor and artist manager Iarlaith Carter, and opera director and librettist Buck Ross.
The opera that hit me over the head on Wednesday was Matthew Peterson's Voir Dire, based on Jason Zencka's libretto of actual criminal court transcripts. "Remember, I'm from Florida," a soprano sings, "I'm not used to the cold. Wisconsin took my fingers in its mouth," she continues with insistent drama. Moments later, describing her criminal lover, she sings poignantly, "His kiss tasted of cigarettes and breath-mints," and the only accompaniment is a cool marimba.  I'm not certain why, but within less than a minute, the piece gave me goose-bumps. Perhaps it was the driving rhythmic ideas, coupled with the "real" words of actual criminals, as well as the neo-romantic harmonies. The setting of the text is evidently skillful, and one judge remarked aptly, "You know the difference between inherently fast and inherently slow words." I think that Voir Dire could likely be this year's winner, depending on how things go tonight. Peterson certainly had my vote on Wednesday.
Other works struck me for their delightful oddity. I voted also for Spanish composer Sonia Megias López (a former student of Karlheinz Stockhausen and Phil Niblock), who tried as best she could in English to convey her imagined fully-staged opera, which she described as "a mix of theater, music, and dance, with two projection screens and two chairs, representing the two hemispheres of the brain." News from Silence: The Monkey is evidently a multi-disciplinary work, focused on the inner turmoil of a male lead character, who is a dancer rather than a singer. "We hear what is in his brain, not what is real," she explained. There were no orchestral players, and the score comprises (at least in excerpt) seemingly random vocal events from a small chorus. Subbaraman, like the other judges, offered comments intended to help round-out the audience's experience. "This was the most beautifully-drawn score we saw this year," he explained. And when certain of the other judges complained that the score might not be readily transferable to another opera company, Ross suggested that a recording could convey it more readily.
The only real flop for me was John Biggs' old-fashioned setting of Wilde's The Importance of Being Earnest, performed with piano accompaniment and much of it spoken. Biggs is a charming man, the kind of guy you'd hope to have as a father-in-law, and he made a warm impression on the crowd. But I was more with the judge who commented, "The problem with this piece is that it's so continuously cool that it's hard to know when the singing should begin." Really, what is the point of taking a well-know play and just adding your music to it?
I'll be back on Sunday to relay news of the winner and also to describe the Beecher opera featured on Saturday's program. Next month I'm off to Dallas for performances of Boris Godunov and Rigoletto. Later this year I'll hear Phil Glass's Hydrogen Jukebox and Handel's Julius Caesar in Fort Worth.  Then there's the rest of Houston Grand Opera's season, which includes not only the world premiere of Franghiz Alizadeh's Your Name Means the Sea (apparently the story focuses on the relationship between an American artist and an Azerbaijani singer), but also performances of Ariadne auf Naxos and The Marriage of Figaro. Really, there is no dearth of opera in the Lone Star state.