Since Houston Grand Opera's recent premiere of Dead Man Walking, I've been reflecting on the wealth of great librettists in the American operatic tradition. If I were on a television game show and had only 30 seconds to mention as many as I could, my "gut reaction" list would start with Gertrude Stein (Four Saints in Three Acts and The Mother of Us All for Virgil Thomson), continue with Gian Carlo Menotti (The Consul, and many others, for himself), move on to Constance DeJong (Satyagraha for Philip Glass) and William M. Hoffman (The Ghosts of Versailles for John Corigliano), and certainly finish with Alice Goodman, whose extraordinary work with John Adams (Nixon in China, The Death of Klinghoffer) is a highpoint for me.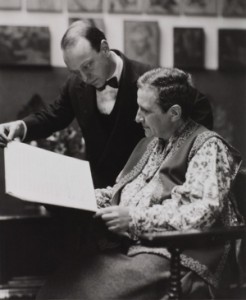 I made a quick trip last weekend to see Nixon in China at The Metropolitan Opera, with Adams conducting, a thrilling opportunity. Alice Goodman is a great poet, and I consider her libretto for Adams' first opera the most significant American one written in the latter half of the 20th century. It should be said that I have a certain bias for this work and for this period in American opera. Goodman and I are the same age, and I feel somehow "on her wavelength" when it comes to the language she organized so eloquently in the opera. "Let Gypsy Rose kick off her high-heel party shoes," sings Mrs. Nixon in her stunning second-act aria. How I adore such ironies from Goodman.
I lived in Boston while Peter Sellars was presenting his earliest productions, and I'll never forget such things as his bombed-out Middle East hotel setting for Handel's Julius Caesar. Mark Morris was already well on my horizon, even if he'd yet to become the darling of the white liberal, NPR-listening, "we love classical" set. I had been introduced to Adams' brilliant compositions in the early 1980s by my college music theory professor, the composer James Sellars, having already bought vinyl recordings of his Shaker Loops and Grand Pianola Music before I even knew about his Nixon opera.
If there's a reason why I chose a silly palindrome as the headline for this essay, it's partly because Nixon in China stands like a pair of bookends on either side of my general experience of contemporary American opera. In October, 1987 it premiered at Houston Grand Opera; I saw it two months later at The Brooklyn Academy of Music. The other reason I like this headline is because I believe that great operas are, indeed, rooted in highly poetic libretti. The recent performances of Jake Heggie's Dead Man Walking here in Houston caused a certain context to arise in my operatic experience. It got me thinking about ambiguity, subtlety, the kind of indirect expression of an idea epitomized by an opera such as Debussy's symbolist Pelléas et Melisande, for example.
I don't think Terence McNally is a great librettist in the case of Dead Man, because what he produced for Heggie lacks a poetic sensibility and suffers from a clumsily direct approach to its theme, which I see as capital punishment and, in a greater sense, atonement, forgiveness, and compassion. His libretto feels more like one of his plays rather than a text to be sung. Here's a review I wrote for Houston's CultureMap.
When Nixon premiered 24 years ago, many of my opera friends laughed it off because of its subject matter. They couldn't understand how an opera about such a politically controversial figure, the ultimate loser, could ever take a serious place in the operatic canon. Adams was talked about as little more than a rip-off minimalist, a maker of repetitive structures that went nowhere. I was perplexed at this reaction. The score was evidently a work of genius, even without Goodman's elegant libretto. More than two decades later, it is now accepted as a masterpiece and the conductor is leading performances at The Met.
Heggie's Dead Man, on the other hand, seems perceived as a masterpiece simply because of the subject matter. At the Houston premiere, I sank quickly in my seat, realizing that the musical texture (sometimes diatonic harmony, other times brashly dissonant and rhythmically bland) was not to my particular liking. That doesn't mean, of course, that it's an inferior work. As the action unfolded, however, it reminded of something the brilliant film and opera director Bruce Beresford has written about 20th century American opera at his own website: "…quite unlike, say, those [operas] of Michael Tippett or Harrison Birtwistle, both of whom subject their audiences to an ordeal rather than an entertainment." Dead Man Walking, for me, is an ordeal I'd rather not sit through again, even if I'm an ardent opponent of the death penalty.
Maybe Dead Man isn't supposed to be an entertainment. A few nights before the HGO premiere in January, the company held an event for subscribers with a lively panel discussion. Music director and conductor Patrick Summers moderated, Heggie spoke as did director Leonard Foglia and soprano Joyce DiDonato. Frederica von Stade (making her opera farewell in this run) was there, and even Sister Helen Prejean, the author of the book upon which both the film and Heggie's opera are based. Summers seemed intent on convincing attendees that Dead Man isn't about the death penalty, and that the narrative is ambiguous, allowing the viewers to make their own decisions about what is right or wrong. My partner, Joseph Campana, wrote a feature on this event for CultureMap. What I remember most about the evening is Sister Helen saying bravely to the wealthy Houston audience, "You know, you're considered the buckle on the death penalty belt." So much for ambiguity, at least that night.
Nixon is filled with great melodies, but perhaps even more importantly, it is a formidable study of rhythmic ideas. Adams has some kind of constantly running metronome in his brain. He keeps turning the knob back and forth. As a conductor and a composer, he makes slight and often sudden shifts in tempo that fascinate me. I haven't examined the score, but I've heard that there are more than a thousand changes in metronome markings throughout the three acts. Metaphorically, I see this as two parts of the world running simultaneously, two different collective biorhythms constantly colliding, Chinese and American.
Recently I've been re-studying Pelléas. I think I was drawn to it after the experience of Dead Man, because it is an opera in which nothing much really happens. Being a largely symbolist effort, the ideas reveal themselves through indirect means. Nixon isn't symbolist, but at times it's filled with symbols and certainly uses indirect methods, such as the performance of a ballet within an opera, inside another opera, to progress the stage action. One could say that it is often a self-reflexive work.
Another remark I remember at the HGO subscribers event was Sister Helen saying that when she met Heggie, the first question she asked was, "you're not one of those atonal composers, are you?"
It's an amusing anecdote, but did she get the tune-filled opera from him that she had imagined? I think not. A few weeks later, however, I met a woman at a dance performance in Houston and we got talking about recent events in Houston's dance and opera scene. She told me that she has been listening to Heggie's opera for weeks and keeps hearing something new. It's possible that my ears simply cannot hear the beauty in it yet. I'm going to keep an open mind and open ears, and I'm eager to hear more of Heggie's operas.
John Adams made me see Richard Nixon in a new light. I have a more forgiving attitude towards the man as a result of loving the opera, to be sure. After performances of Dead Man in Houston, I joined the Texas Moratorium on the Death Penalty. Even if operas aren't poetic, they still have power.