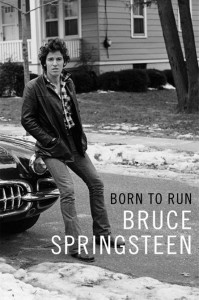 Bruce Springsteen's memoirs announced, sample chapters include: Blood on the Turnpike, Human Town, Lucky Touch, Hear Those Tires SQUEAL, Chuck Berry Stole All My Riffs (So I Stole Some Song Titles), Prince Almost Stole My Mojo, Hitchhiking to We Are the World, Leftover Songs for Breakfast, Car Parts Make Great Metaphors, My Mom Called Me the Human Amphetamine, No Drugs Please We're Songcraft Geeks, Chris Christie Suspended His Campaign For Our Sins, Car Thieves Make Better Lovers, My Memoir Narrative Straight Literalism (To Make Dylan's Read Even Weirder!), Don't Towel-Whip Me Baby Your Hair's on Fire, Can a Bitch Get a Donut? Outtakes To Infinity (Its Own Galaxy), That's DOCTOR Frankenstein To You Dave Marsh, Drop-Kick My Carburetor, Baby, Through the Greasy Diners of Working Class Fatalism, Does Baby Bruce Dream of Vietnam Electric PTSD? Mary Was a Two-Timer But She Threw Great Parties (with Bad Songs), Don't Let the Rock'n'Roll Hall Of Fame Get Hold Of Your Diary Blues, Bono Has BO (Edge the Sweetie Fingers), Clarence Was Not a Token–He Was An Extra Large, Duets Don't Equals Endorsement (MTV prenups with Ethridge, Branigan, et al, aka, What's Prince Doing with Sheena Easton?), Patti Left Her Inhaler in the Car, All My Early Songs Work as Metaphors for High School Nickname: "Late Bloomer," Too Bad About John Hammond Sr.'s Boy, Prince's Hair v My Late-Career Earrings: a Tautological Debate, Insert Dangling Catfish Here, The Promised Land At Suzy's Lunch, Plugging Presley's Dream All Through the Tired Lonely Loserville Nights, Those Shoes I Bought You Suck, She's Not the One After All, Oops My Bad My IDs  in My Other Wallet Back Home In My Other Workingman's Pants, You Like It Up Front But I Left it All Behind, None But the Chiropractic, Unreleased Refinery Operas (deluxe brick sets), It Ain't Over Til Lenny Kravitz Goes Jennifer Lawrence Co-Star And Has Children Earning Top Billing Over Tilda Swinton, My Son Jack the Fireman (Left My Keys in Freehold), Rock Stardom Was Just a Backup Plan (After Failing at Rock Criticism)…
We caught the Hartford show on February 10, one of the greats. Don't miss this tour.
FAVORITE PIANISTS
[first ten in order (*=heard live)/preferred repertoire, or definitive]
RACHMANINOFF, Sergei/EVERYTHING
RUBINSTEIN, Arthur/Chopin, esp.Chopin Waltzes, Nocturnes, RCA
LIPATTI, Dinu/Everything
*HORSZOWSKI, Mieczyslaw/everything
*LUPU, Radu/Brahms, Schubert, Beethoven
ANDA, Geza/Bartok
*FISCHER, Annie/Mozart
*TIPO, Maria/Mozart, Bach, Scarlatti
the rest:
*BRONFMAN, Yefim
*GOODE, Richard
*SCHIFF, Andras/Goldberg Variations, ECM (not yet on spotify)
*UCHIDA, Mitsuku
ARGERICH, Martha
*ASHKENAZY, Vladimir/Shostakovich Preludes and Fugues
BERMAN, Lazar/Rach 3rd, Abbado (not yet on spotify)
*DE LORROCHA, Alicia
DINNERSTEIN, Simone
FIRKUSNY, Rudolf
FLEISHER, Leon/Beethoven Concerti, Szell
GEISEKING, Walter/Debussy
GILELS, Emil
GULDA, Friedrich
HASKIL, Clara
HOROWITZ, Vladimir
KALLIR, Lilian [sic]
KEMPFF, Wilhelm
KOVACEVICH [BISHOP], Stephen
KRAUS, Lili/Mozart
LEVIT, Igor
LEWIS, Paul
LI, Yundi
LORTIE, Louis
OVE ANDNES, Lief
*PLETNEV, Mikhail
*POGORELICH, Ivo
*POLLINI, Maurizio
RICHTER, Sviatoslov
SCHNABEL, Artur/Schubert
SERKIN, Rudolf/Brahms 2nd
SOKOLOV, Gregor
SOLOMON/Beethoven
VOGT, Lars
FILE UNDER: INCOMPLETE OBITUARIES
One thing I HATE about SCOTUS encomiums, the complete INVISIBILITY of any discussion of Bush v Gore (2000), which must count among Scalia's and O'Connor's most shameful moments.

[contextly_auto_sidebar]